Sussex chemist receives international research award
By: Jessica Gowers
Last updated: Tuesday, 23 November 2021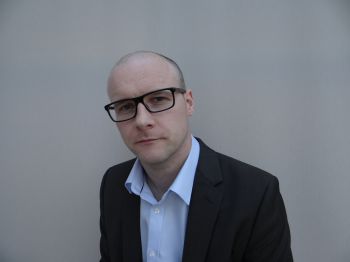 A Professor of Chemistry recently received a highly prestigious international award in recognition of his research.
Professor Richard Layfield was announced as a recipient of the Friedrich Wilhelm Bessel Research Award, which celebrates outstanding accomplishments in research.
The Alexander von Humboldt Foundation annually grants around 20 of the awards to internationally recognised scholars from across the world.
As a leading researcher in the area of f-element chemistry, Professor Layfield's work has produced decisive breakthroughs in the field of lanthanide single molecule magnetism, resulting in a detailed understanding of these complex materials and their potential uses in nanoscale devices.
Richard Layfield, Professor of Chemistry in the School of Life Sciences, said: "I'm honoured to receive this award from the Humboldt Foundation. Any recognition of an individual for research in experimental science inevitably reflects the hard work of the recipient's talented group of students and postdocs, to whom I am extremely grateful for their contributions."
Discoveries by Professor Layfield have changed our fundamental understanding of structure-property relationships in molecular magnetism, and they have furnished synthetic routes to the first high-temperature single molecule magnets.
As a recipient of the award, Professor Layfield will be invited to conduct further research in Germany, where he will be hosted by Professor Manfred Scheer at the University of Regensburg.
Professor Wendy Brown, Subject Chair for Chemistry at the University of Sussex, said: "The Bessel Research Award is highly competitive and is only granted to the most successful scholars whose research is having an international impact. Richard is highly deserving of this award and myself and colleagues in Chemistry are incredibly proud. Congratulations to Richard and we are looking forward to hearing about the next stages of his research in Germany!"
The Alexander von Humboldt Foundation presents Bessel Research Awards annually to internationally renowned academics from all academic disciplines in recognition of their outstanding accomplishments in research. The Award will be presented at a ceremony in Germany in March 2022.
The Humboldt Foundation is a German research foundation which aims to promote academic cooperation between excellent scientists and scholars from abroad and from Germany.
For more information about the award, visit the Alexander von Humboldt Foundation website.