Black History Month: Celebrating the work of Dr Mahmoud Maina
By: Jessica Gowers
Last updated: Tuesday, 19 October 2021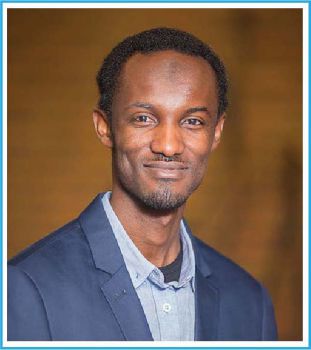 October is Black History Month and this year's theme is 'Proud to Be'. In marking Black History Month, the School of Life Sciences is highlighting the incredible work that Dr Mahmoud Maina is undertaking to advance science in Africa.
Dr Mahmoud Maina is a Research Fellow in the School of Life Sciences focused on the cellular and molecular pathogenesis in Alzheimer's disease. A keen advocate for public engagement, Dr Maina founded the outreach program for TReND in Africa (a non-profit science organisation that promotes scientific research and training in Africa), organising workshops and science fairs for students and teachers.
He also launched Science Communication Hub Nigeria, a platform which aims to connect scientists in the country, and the African Science Literacy Network, a project aimed at training scientists and journalists in effectively communicating research. He is now working towards opening the Biomedical Science Research and Training Centre (BioRTC) in Nigeria.
The School's Equality, Diversity and Inclusion (EDI) team recently met with Dr Maina and spoke to him about his work and his reasons for engaging and collaborating with scientists in Africa.
He said: "Diversity of ideas facilitates scientific breakthroughs. Similarly, breakthroughs on genetically diverse populations are likely to have a global impact. Africa has the greatest diversity of all continents, but Life Science research in the continent is not progressing as rapidly as in other continents, partly due to the lack of laboratory infrastructure."
Dr Maina, born and raised in Yobe State, Nigeria, became inspired to help address these challenges after joining TReND in Africa.
He added: "I have always wanted to help in developing the scientific infrastructure and workforce in Africa. Becoming a member of the higher education NGO, TReND in Africa, and joining Sussex Life Sciences enabled me to pursue that goal. Thanks to the donations from many groups here in Life Sciences, we recently launched a Biomedical Science Research and Training Centre in Nigeria (BioRTC). This centre now has some equipment that no other centre in Nigeria has, such as a Confocal Microscope. Although BioRTC still has more to do to become fully operational, we hope that it will eventually facilitate research on local and global biomedical science problems and this way helping to promote diversity of thoughts in science and research on the genetically diverse African population.
"My appreciation goes to the key Life Science colleagues involved in this project, specifically Dr Takeshi Yoshimatsu and Dr Sabi Abdul-Raouf Issa, together with whom we launched BioRTC in Nigeria."
This work coincides with a long-term study led by Dr Maina, which analyses research outputs in Africa and details important information about funding and international collaboration, comparing activity in the continent to the US, UK and areas of Europe. It's hoped that the study will provide useful data to help shape and grow science in Africa.
Approaching Black History Month, the School of Life Sciences also commissioned a series of training courses on 'It's About Race' and 'Diversity in Practice' for all staff. The School also recently launched the BAMESci Community for BAME students to socialise, share ideas and concerns and as another means of supporting each other, with the first in-person event held earlier this month.