Sussex Drug Discovery Centre appoints Professor John Spencer as new Director
By: Jessica Gowers
Last updated: Tuesday, 7 September 2021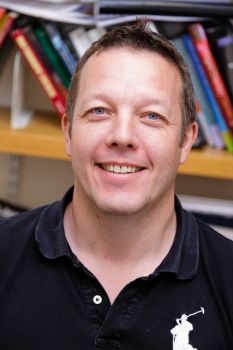 Professor John Spencer has been appointed as the new Director of the Sussex Drug Discovery Centre (SDDC) within the School of Life Sciences.
Professor Spencer, who has worked at the University of Sussex since 2012, will take up his new post with immediate effect. Under his leadership the SDDC will continue to grow as an internationally recognised centre of excellence for academic drug discovery.
The SDDC comprises of a fully integrated group of scientists with a goal to discover novel therapeutics for diseases with high unmet medical need.
John Spencer, Professor of Bioorganic Chemistry, said: "I'm really looking forward to continuing the great work of the SDDC as Director. We aim to maximise the synergies between chemistry and biology based on the strong academic foundations in the School of Life Sciences. Fragment based drug discovery, hit to lead generation and atom economical chemistry, underpinned by industry standard biology, are amongst our strengths."
Professor Spencer initially joined the University of Sussex in 1986 for his Undergraduate degree in Chemistry. He went on to complete a PhD in Palladium Chemistry at Louis Pasteur University, Strasbourg, with Dr Michel Pfeffer, followed by postdoctoral research at ETH, Zurich. He spent the next ten years in the pharmaceutical sector, notably with the James Black Foundation, before returning to academia; leaving Greenwich University in 2012 to take up a Readership at the University of Sussex, followed by a Professorship in 2016.
Professor Sarah Guthrie, Head of School of Life Sciences, said: "I am thrilled that Professor John Spencer has agreed to lead the SDDC. John is an inspirational and energetic scientist and a leader with a detailed knowledge of the territory of medicinal chemistry and drug discovery. I am really looking forward to working with him in his new role, and am confident he will bring fresh exciting ideas and renewal to our drug discovery enterprise.
"I would also like to take this opportunity to express my thanks to Professor Jeff Hill who has led the SDDC for the past two years."
Professor Spencer's interests include novel atom economical routes in the late stage functionalisation of bioactive molecules, targeted oncology approaches (bromodomains, protacs, kinases), fragment-based drug discovery and rare diseases, notably Niemann Pick C. He has supervised over 20 PhD students and raised several million pounds in research grants from charities, research councils, the EU and various companies. He has authored around 165 publications and has over a dozen patents. He is a scientific advisory board member of Worldwide Cancer Research, editor for the journals Molecules and Future Medicinal Chemistry and a long-term advisor for textbooks, including Oxford University Press' Introduction to Medicinal Chemistry.