Fundraising call for innovative cancer diagnosis project led by Sussex Professor
By: Stephanie Allen
Last updated: Monday, 15 November 2021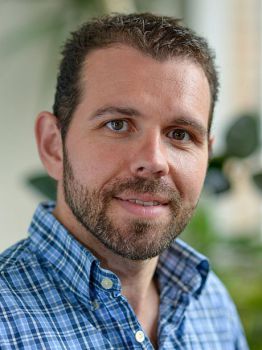 A project aiming to develop a blood test for cancer diagnosis is currently seeking donations to help fund specialist equipment.

The project, headed by Professor Georgios Giamas of the School of Life Sciences, will ultimately help the development of a non-invasive blood test for diagnosing cancer and personalising therapies.
The aim is to create a liquid biopsy using a patient's blood sample to easily test for the existence of markers in extracellular vesicles (EVs) that can signal the presence of cancer.
EVs are small particles secreted by all kinds of cells that transfer different information (eg. lipids, proteins and nucleic acids) between cells and thereby influencing the cells' functions. Rather than taking a piece of tissue from the patient, liquid biopsies will allow doctors to take a small sample of blood and test for a range of EVs-biomarkers that can help identify the subtype of tumour present, leading to the potential for personalised therapies.
As well as being less invasive for patients, this technique holds the promise of earlier diagnosis, thereby saving lives. In addition, liquid biopsies are much more cost-effective than tissue biopsies, which require a surgical procedure.
Georgios Giamas, Professor of Cancer Cell Signalling and Subject Chair for Biochemistry and Biomedicine, said: "The impact of developing a liquid biopsy to spot cancer is truly exciting. In order to pursue this potentially life-saving project, our research team needs a specialist piece of equipment – the Exoview R100 – that will help us identify novel potential EVs-biomarkers linked to different cancer types.

"This equipment costs around £90k and we are delighted to have secured some match funding, meaning we are now looking to raise around £40k in donations. Any contribution, no matter how big or how small, will be gratefully received."
The equipment will allow the team to massively improve the time and investment required to carry out the fundamental EV-related research to pursue this project.
Funds for the project are being raised via the Sussex Cancer Fund, a charity which works with the NHS to create new and improved facilities providing the best possible cancer care for Sussex.
If you would like to contribute to this project and help buy the necessary equipment please donate via JustGiving. For more information about this research, visit the website.