Book by expert immunologist offers clear and educated advice during time of misinformation and worry
By: Stephanie Allen
Last updated: Thursday, 19 March 2020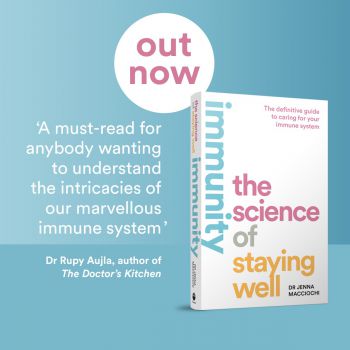 A new book by a University of Sussex lecturer offers readers simple, clear and educated advice on what it takes to protect our immune system, while breaking down misinformation and myth.
At a time when many are feeling anxious or worried about coronavirus, Dr Jenna Macciochi is on a mission to break down the science behind our health and share the secrets of how we can best protect ourselves in modern life.
Immunity: The Science of Staying Well shares knowledge gathered by Dr Macciochi over more than 20 years of experience as a scientist, in which time she has researched the impact of lifestyle on the immune system in both health and disease. Covering a variety of factors including nutrition, sleep, exercise, and mental health, Dr Macciochi reveals the importance of cultivating long term health – and how to do it.
Dr Macciochi, Lecturer in Immunology at the University of Sussex, said: "Though many of us talk about our immune system, its usually when we get those familiar symptoms of the seasonal lurgy. I'd argue that it's much more than that.
"When it comes to maintaining good health and longevity, our immune system is our most precious asset. It is intimately intertwined with every aspect of our lifestyle from stress to exercise, diet and sleep."
Immunity explores the secrets of people who never seem to get ill, why auto-immune disease is more prevalent than ever and, despite popular opinion, how germs are actually good for us.
Dr Macciochi hopes the book will be a source of trusted information for many during the ongoing coronavirus crisis – combatting the misinformation which can circulate so quickly online.
She explained: "Though I wrote this before I knew about the current coronavirus situation, I believe the book will provide clarity and understanding of how best to care for your immune system, and importantly avoid misinformation and snake oil, in what is a very uncertain time."
Immunity: The Science of Staying Well is published by Harper Thorsons, part of Harper Collins UK, and is available in paperback for £14.99.