New Sussex research group to investigate blood cancers
By: Jessica Gowers
Last updated: Friday, 18 January 2019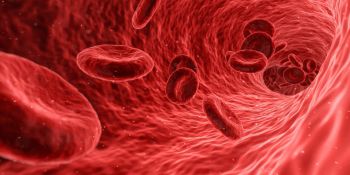 A new collaborative research group aims to explore the causes of blood cancers and design new treatments.
The Haematology Research Group is a network of six labs across the School of Life Sciences and Brighton and Sussex Medical School (BSMS).
The researchers involved have shared interests in the molecular mechanisms active in normal and malignant haematology (the branch of medicine involving study and treatment of the blood).
The broad remit of the Haematology Research Group is to increase understanding of the molecular changes that occur in blood cancers, with the ultimate aim of designing novel and effective therapies.
It is hoped the group will pool resources and ideas, to not only foster closer collaboration between the two Schools involved, but also Brighton and Sussex University Hospitals (BSUH) NHS trust in order to increase the translational impact of research.
Dr Rhys Morgan, Director of the Haematology Research Group and Lecturer in Biomedical Sciences in the School of Life Sciences, said: "Recent recruitment, publication and grant funding success means that Sussex has a very real presence in the UK haematology field now.
"Hopefully the creation of this network will help build upon this success by providing further opportunities for haematological research and teaching between BSMS and Life Sciences. The aim is to make Sussex one of the leading institutes to come and study or research molecular haematology in the UK."
The group adopts a range of translational and biochemical approaches in the laboratory, whilst also taking on responsibility for training the next generation of haematology scientists and doctors.
It is expected that this will lead to the submission of joint funding bids, project supervision and publication of research papers.
The clinical lead for the group is Dr Timothy Chevassut, a Consultant Haematologist at BSUH. He said: "Chris, Andrea and I are delighted by the launch of the Haematology Research Group and look forward to highlighting our research at BSMS alongside that of Rhys, Erika and Michelle in Life Sciences.
"Haematology research at the University of Sussex has the potential to identify new mechanisms of disease in blood cancer and more importantly discover new treatment strategies through drug discovery that we hope to bring patients here in Brighton in the future. We hope that the group will allow us as scientists to share our findings with other researchers leading to important collaborations and discoveries in blood cancers, both here in the UK and internationally."
The Haematology Research Group is a committed training centre for PhD students, Postdoctoral and Clinical Research Fellows in the field of haematology and will support early career researchers in joining the network in the future.
The research group comprises of labs led by Dr Rhys Morgan, Dr Erika Mancini and Prof Michelle West of the School of Life Sciences and Dr Timothy Chevassut, Prof Chris Pepper and Dr Andrea Pepper of BSMS.
For more information, follow @Sussex_Haem on Twitter.