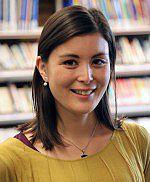 Miss
Laura Mark
Role
Fellow of Higher Education Academy, MA TESOL with Translation Studies (University of Hull), MA French and Spanish (University of Edinburgh), CELTA.
As Teaching Fellow in English Language and Modern Languages, Laura currently teaches on:
Undergraduate modules
- 'Intercultural encounters' (ML)
- French-English translation (ML)
- Intercultural Skills for Effective Business Communication (International Summer School)
- Academic Development (Foundation Year/EL)
Postgraduate modules
- Intercultural Communication in the Workplace (EL)
- Business Communication Skills (EL)
- English for Academic Purposes on Pre-sessional and In-sessional courses (EL)
- General Intensive English courses (EL)
She is Convenor and Internal Moderator for Japanese elective modules.
She currently convenes the elective module, Intercultural Encounters, and the International Summer School module, Intercultural Skills for Effective Business Communication.
Laura has taught at higher education institutions in France, Japan and the UK. She has also worked for the European Commission and educational/humanitarian NGOs in Belgium and Argentina.
Her research interests include linguistic identities, media representation, 'nation' and 'citizenship' in the globalised world and the place of intercultural communicative competence in education. Following her Masters research, Identity and interaction in second language acquisition: An investigation of Chinese learners' use of 'English' names, she is keen to further explore the relationship between language, identity and globalisation.