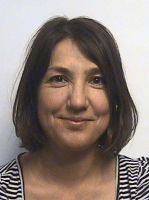 Ms
Yolanda Cerda
Post:
Senior Teaching Fellow (Sussex Centre for Language Studies)
Other posts:
Deputy Director (Modern Foreign Languages) SCLS (Sussex Centre for Language Studies)
Deputy Director Modern Languages (Sussex Centre for Language Studies)
Director of Admissions and Recruitment (Sussex Centre for Language Studies)
Director of Student Experience (Sussex Centre for Language Studies)
Location:
ARTS A A043
Email:
Y.Cerda@sussex.ac.uk

Telephone numbers
Internal:
6533
UK:
01273 876533
International:
+44 1273 876533
download vCarddownload vCard to your mobile
Role
PhD Linguistics (Sussex), in progress.
MA Applied Linguistics and ELT (King's College, London), MA Translation (Universidad Complutense de Madrid), BA (University of Leeds) Cambridge DELTA, CELTA, PGCertHE
Currently Teaching Fellow in English Language and ELT and Modern Languages at Sussex Centre for Languages teaching on the BA ELT, elective modules (Intercultural Encounters, etc.) EAP Pre-sessional and In-sessional, General Intensive English, Teacher Training courses, etc.
Convenor for Open Language Courses at SCLS
Previously lectured on BA TEFL, BA Translation and MA TESOL courses at University of London including modules on Empirical Investigations of Language, Language Analysis for TESOL, Pedagogical Grammar, Methodology Across the TESOL Currriculum, English for Academic Purposes, Teaching Practicum, General Translation, etc.
Before entering the Higher Education sector was involved in academic management and in-service teacher development, as well as teaching and developing English courses for adults, Young Learners, Business, IELTS, TOEFL, Cambridge Exams, etc.
Interests include teacher education and beliefs, discourse analysis, sociolinguistics, language and literature and language change.