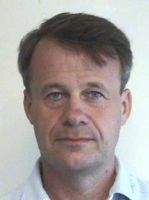 Mr
Jeremy Page
Biography
BA (Warwick), MA (Bristol), MA (Sussex), Dip RSA (TEFLA), PG Cert HE, FHEA
Jeremy Page is the Deputy Director (English Language and ELT) of the Sussex Centre for Language Studies, and convenes the ELT electives ELT 1A, ELT 2A and Introduction to English Language Teaching and Learning. He also teaches on the MA in ELT.
His research interests include the use of literature in language teaching, testing and assessment, curriculum design and inter-cultural teaching and learning. He has presented papers at numerous conferences, including the International House educators' conference, British Council Italy and IATEFL Literature and Cultural Studies SIG.
He has worked extensively as an examinations consultant to the University of Cambridge (ESOL), delivering teacher support seminars in Argentina, Bulgaria, Hungary, Ireland and the UK, and also as a professional advisor to the Teacher Training Agency.
He has been a senior assessor for the University of Cambridge ESOL CELTA (Certificate in English Language Teaching to Adults) scheme, a certified IELTS examiner and a marker and team leader for the Cambridge First Certificate paper two. For many years he was on the editorial board of the IH Journal of Education and Development.
He has written English language teaching materials for Pearson Longman, Oxford University Press, BBC Worldwide and Macmillan, and contributed to Best Practice in Language Teaching (IHWO Books 2008).
His poetry and short stories are widely published. His latest collection of poems is In and Out of The Dark Wood (HappenStance 2010). His translations of Catullus's Lesbia poems were published by Ashley Press as The Cost of All Desire in 2011. His own poems have been translated into Romanian and German.
Tuesdays 12.30 - 13.30
Fridays 12.30 - 13.30
Bookable by email: j.n.page@sussex.ac.uk