SCLS runs several strands of open seminars; all welcome.
Language and Culture
The Sussex Centre for Language Studies organises events in the Language Learning Centre, Arts A, twice a term. Invited speakers on a wide range of topics set language in its wider context and respond to questions from the floor. Events are free, open to all.
On Ulysses: Homer, Dante, Joyce

Prof Lino Pertile (Harvard) and Prof Brian Cummings (York)
Thursday 13 February 2020, from 5pm
Language Learning Centre, Arts A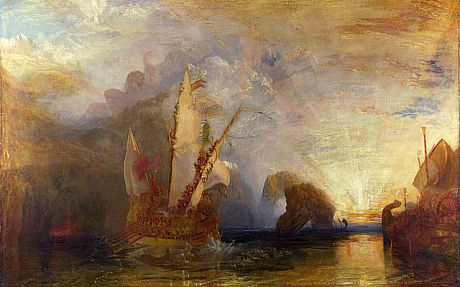 Professor Lino Pertile, Harvard University, 'On Ulysses: in Praise of Literature'
and
Professor Brian Cummings, University of York, 'Ulysses and Time Travel: Homer, Dante, Joyce'
with discussants Dr Ambra Moroncini and Professor Andrew Hadfield, University of Sussex,
in collaboration with the Sussex Centre for Early Modern and Medieval Studies.
These talks will be in English. All welcome.
Lino Pertile is Carl A. Pescosolido Research Professor of Romance Languages and Literatures, Harvard University, and member of the Accademia dei Lincei, Rome. A graduate of the University of Padua (Italy), he taught Italian Literature in France and Italy and the United Kingdom (Reading, Sussex 1974-88, Edinburgh) before joining Harvard University in 1995, where he served as House Master (2000-2010) and Director of Villa I Tatti, the Harvard University Center for Italian Renaissance Studies in Florence (2010-15). He has published essays on the French and Italian Renaissance, on Dante (La puttana e il gigante: dal Cantico dei Cantici al Paradiso terrestre, 1998, La punta del disio. Semantica del desiderio nella Commedia, 2005, Dante in Context, co-ed. 2015, paperback 2017), the Renaissance (Bembo and Trifon Gabriele), and 20th century Italian literature (Pavese and the contemporary novel).
ABSTRACT. Returning to the subject of his first public lecture at Sussex over forty years ago, Lino Pertile argues that Dante's Ulysses, particularly as remembered by Primo Levi at Auschwitz, offers a supreme example of how a few lines of poetry can encapsulate and reveal what is both so exalting and so tragic about the human condition. And yet, in the last fifty years, scholars have been increasingly questioning Dante's Ulysses and what he stands for, while literature is being slowly squeezed out of academic programs at all levels of education. The paper is meant to be both a defense of Ulysses' tragic search for knowledge and an appeal for the study of literature as an irreplaceable means of understanding ourselves and educating future generations.
Brian Cummings FBA is Anniversary Professor at the University of York in the Department of English and Related Literature. From 1988 to 2012 he worked at the University of Sussex, first as a Lecturer in European Studies, and later as Professor of English. He has also held visiting fellowships in Munich, Oxford, Toronto, and Washington D.C. His books include The Literary Culture of the Reformation: Grammar and Grace (Paperback, OUP, 2007); Mortal Thoughts: Religion, Secularity & Identity in Shakespeare and Early Modern Culture (Paperback, OUP, 2013); and The Book of Common Prayer: A Very Short Introduction (OUP, 2018). In 2012 he gave the Clarendon Lectures at Oxford University on 'Bibliophobia' (the title of his forthcoming book); and in 2014 the Shakespeare Birthday Lecture at the Folger Library. With Alexandra Walsham (Cambridge) he directed the project "Remembering the Reformation", funded by the Arts and Humanities Research Council from 2016 to 2019.
ABSTRACT. Homer himself called Odysseus polytropos, the 'man of many turnings' (Odyssey, i.1). Erasmus, quoting Homer's epithet in the Adagia (I.i.93), made this the characteristic act of literature, the ability to turn something into something else. Odysseus is the crafty one, the deceiver, who changes things through language as deftly as his enemy Circe does by magic. Conventionally, like all history, literary history runs forwards in a linear fashion: we place the medieval before the Renaissance, and so on. But that is not the way writers read literature, where Petrarch reads Cicero, just as Cicero himself reads Plato. By this means, we might say that literary history works properly in reverse, or that all acts of reading are simultaneous. In this talk I will examine how Joyce reaches back in time to Dante, and Dante in turn to Homer, in order to create this miraculous paradox of time. Homer's journey is the journey of all journeys; his poem is the poem of poetry. As Beckett said of Joyce's Ulysses: 'His writing is not about something; it is that something itself'. (Beckett, Dante…Bruno. Vico..Joyce (1929))
For further information please contact Ambra Moroncini.
Past speakers include:

Dr Ambra Moroncini and Prof Darrow Schecter (Sussex), Resistance in Italian Culture from Dante to the 21st Century
Feras Alkabani (Sussex), Orientalism and Sexuality: Sir Richard Burton's 'Plain and Literal' Translation of the Arabian Nights
Yolanda Cerdá (Sussex/Leeds), From 'feckless fun daddies' to 'alphamums' - parents as expressions of masculinity & femininity in the UK liberal press
Eileen Laffan (Sussex), Stories of 'becoming': Narratives of Chinese international students
Jilan Wei (Changzhou Institute of Technology), Imagery of the moon in Su Shi's Ci poetry and its translations
Dr Federica Formato (University of Brighton), Sexism in Italy seen through language: media, culture and the speakers
Rafael Argenton Freire (Sussex), Language, Literature and Independence: how an Emperor's literary salon laid the foundations of Brazilian identity in the 19th Century.
Dr Eljee Javier (Sussex), "Do I sound white (enough)?" - Exploring the status and identities of visible ethnic minority, native English speaker teachers.
Deborah Smith, International Man Booker prize-winning translator, editor and publisher, Translating from the Margins. Audio recording available (for members of the University of Sussex only).
Caterina Mazzilli (Migration Studies, University of Sussex), Receptive Cities - Brighton and Bologna.
John Walker and Marco Nardi (British Sign Language, University of Sussex), Interpreting beyond words.
Professor Lyn Thomas and Lewes writer Tanya Shadrick: Diaries of the Outside: Annie Ernaux's urban journals and Tanya Shadrick's Wild Patience Scrolls.
Professor Andy Kirkpatrick (Griffith University, Brisbane): English as a Medium of Instruction in Asian Universities: challenges and prospects. [PowerPoint slides - audio recording below]


Andy Kirkpatrick - English as a Medium of Instruction in Asian Universities:

Maria Jastrzᶒbska, poet, editor and translator: Between Worlds (What makes a Polish writer Polish or a British writer British?).
Christophe Landry (Sussex): The Internet, social media, endangered language and identity renaissance.
Chris McDermott, University of Sussex lead chaplain on the Art of Conflict and the Conflict in Art.
True Tales from the Old Hill - launch of this anthology of sixty tales, in conjunction with the Frogmore Press and the Centre for Life History and Life Writing Research at the University of Sussex.
Yvonne Salt (Sussex Centre for Migration Research): 'Language, Space and Love Migration' - website - exploring the emotional side of migration, and considering how people talk about and understand their love migration.
Pam Thurschwell (English, Sussex) and Jeremy Page (SCLS, Sussex): 'Morrissey and Marr Revisited: A Conversation about The Smiths' - discussing the legendary 80s rock band, their significance, their legacy, and Morrissey's controversial autobiography.
A transcript of this event has been published on the Iowa Review blog, and there is a recording available below:


Jeremy Page and Pam Thurschwell (University of Sussex) - A Conversation about The Smiths

Dr Paul Davies (Philosophy, Sussex): 'Language and Fiction' - recording available - exploring the logical, moral and metaphysical problems posed by the topic of fiction.
John Walker (Deaf Studies, Sussex): 'Sign language and spatiality' - discussing how the relationship between spatiality and sign language is manifested.
Prof Andrew Hadfield (English, Sussex): 'Travel, Tourism and The Sensible Observations of George Sandys' - exploring recent and early modern ideas of the relationship between the two conceptions of travel and encounter.
Dr Lynne Murphy (Linguistics, Sussex): 'The most acceptable hypocrisy'? Polite words in the UK and US - exploring differences between British and American English and their implications for inter-cultural communication.
Dr Micheline Maupoint (French, Sussex): The role and impact of cartoons in contemporary France - considering whether political cartoons remain as a significant cultural product in an era where the existence of print media is threatened by new technological developments.
Sasha Dugdale (Modern Poetry in Translation journal): Modern poetry and translation - reading her own poems as well as her translations of Russian poets, with discussion of the challenges of translating poetry.
Jules Winchester (Sussex Conversational Humour in Intercultural Interactions - exploring some of the general theories and functions of humour)
Dr Simon Coffey (King's College London): Narrative Positioning and Agency in Intercultural Encounters - discussing ways in which narrative approaches can extend our understanding of the experience of language learning.
Alexandra Loske (Art History, University of Sussex): Languages of Colour - exploring different approaches and attitudes to colour and how it is used as a tool in various art forms and disciplines.
Irina Mashinski (Cardinal Points journal) and Sasha Dugdale: Poetry reading by bilingual poets and translators, in association with the University of Sussex Russian Society
Research on English Language Teaching
The Language Learning Centre also hosts occasional University of Sussex Russian Society seminars.