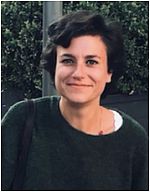 Dr
Ida Danewid
Biography
Dr Ida Danewid is Lecturer in Gender and Global Political Economy. Her research is situated at the nexus of race, gender, political economy, and radical political thought, and specifically focuses on questions of internationalism and the politics of solidarity. She is currently working on a monograph that examines the shared horizons of abolitionist movements around the world.
Ida was previously a Visiting Scholar at UC Berkeley and the Editor of Millennium: Journal of International Studies. Beyond the academy, her work has appeared at the Berlin Art Week as well as the Fondazione Sandretto Re Rebaudengo gallery in Turin, Italy.
Ida joined Sussex in 2019, having previously taught at SOAS and LSE. She holds a BSc in Econometrics and Mathematical Economics from LSE, an MPhil in International Relations from Oxford, and a PhD in International Relations from LSE.
Professional activities and recognition
EISA Early Career Researchers Workshop (organiser), The Political Economy of Control: Race and (In)Security in the Neoliberal Present (2019)
Gallery Walkthrough, Nottingham Contemporary (2019)
Keynote, Mediterranean Crossings: Stadtgarten (2019)
ISA Theory Section, Best Edited Volume Award (2018)
Visiting Scholar, UC Berkeley (2018)
Edward Said Award (2017)
Teaching Excellence Award, LSE (2016)
Editor, Millennium: Journal of International Studies (2015-16)
Role
Lecturer in Gender and Global Political Economy