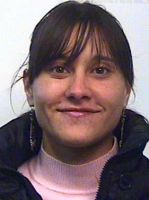 Miss
Vanessa Iaria
Biography
Vanessa has obtained a BA in Languages and International Communication (2006) at Rome Three University, a MA in Migration Studies (2008) and a MSc in Comparative and Cross-Cultural Research Methods (2009) at the University of Sussex. She is presently an ESRC-funded DPhil research student and her doctoral study focuses on Iraqi refugees' assisted and self-repatriation from Syria and Jordan.
Role
Vanessa is a 4th year DPhil student in Migration Studies and Associate Tutor on the first year course 'Introduction to International Relations' and on the second year course 'Contemporary International Theories'
Vanessa' s major area of research is forced migration and development in the Middle East, with a focus on the participation of diasporas and transnational refugee communities in post-conflict reconstruction and nation-state building. Her doctoral research project investigates the scale, nature and socio-political dynamics of Iraqi refugees' assisted and self-repatriation from Syria and Jordan. Her MA dissertation is a study of the diffusion of antisocial behaviour among members of refugee communities, taking as case studies Afghani and Iraqi refugees living in neighbouring countries of asylum. As part of her BA in Languages she studied the Arabic language at the University of Jordan, Amman and at the American University in Cairo, Egypt. For her BA, she explored the phenomenon of diglossia in Jordan and the functional-structural differences between the numerous varieties of Jordanian colloquial Arabic.