Statement by the Department of International Relations, University of Sussex
A statement following the (social) media and email campaign after the publication of Is Securitization Theory Racist? Civilizationism, methodological whiteness, and antiblack thought in the Copenhagen School and the rejoinder Racism and responsibility – The critical limits of deepfake methodology in security studies: A reply to Howell and Richter-Montpetit.
Global Studies - responding to the COVID-19 pandemic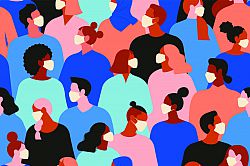 Academics across the School of Global Studies are drawing on their wide-ranging research expertise to react and inform during the current Coronavirus outbreak.
From providing specialist insight on health policy to writing pieces for the UK and international media on migrant key workers, and debating the impact the virus might have on Brexit, our School's research in Anthropology, International Relations, International Development and Geography can bring understanding, challenge and perspective to the crisis.

Sussex International Relations Receives Prestigious Academic Awards
Professor Patricia Owens and Cynthia Weber, faculty members of Sussex IR, and Dr. Kerem Nisancioglu, a former student at Sussex IR, have received prestigious academic awards.
Read more...

IR Professor Patricia Owens's new book Economy of Force: Counterinsurgency and the Historical Rise of the Social (Cambridge: Cambridge University Press, 2015) has won the 2016 British International Studies Association Susan Strange Book Prize for the best book published in any field of International Studies. It was also awarded the International Studies Association Theory Section Book Award, which 'recognizes the best book published in the two years prior to the conference at which the award will be given, which contributes to the theorization of world politics'.

In its statement Awards Committee noted, "Economy of Force… is learned, literate and wide ranging. It explodes a series of key concepts that have long defined IR theorizing... obliging the reader to thoroughly rethink how IR theory should be done... by re-historicizing the key conceptual divisions on which our discipline is done and reproduced".

Economy of Force was also the runner up for Francesco Guicciardini Prize for Best Book in Historical International Relations.

***

Professor Cynthia Weber has won the prestigious LGBTQA Scholar Award of International Studies Association (ISA). The award 'recognizes individuals whose scholarship or teaching and mentoring serve as a model for the integration within international studies of subjects of concern to the LGBTQ community or those incorporating theoretical and empirical perspectives on sexuality and gender'.

In its statement the LGBTQA Caucus of the ISA noted that "we received multiple nominations recognizing your work. All of them spoke to your long-standing pioneering research in the fields of international relations and queer theory, your exceptional scholarship represented for example in your recent book on Queer IR, and your generosity in mentorship."

***

A book by a former Sussex IR student, Dr. Kerem Nisancioglu, has won two prestigious prize awarded by International Studies Association (ISA) and International Political Economy Group (IPEG) an affiliate of British International Studies Group (IPEG).

How the West Came to Rule: The Geopolitical Origins of Capitalism (Pluto, 2015), co-authored by Dr. Nisancioglu and Dr. Alexander Anievas, has been awarded ISA's International Political Sociology Section Book Prize for 2017. The prize is awarded every year to the "best book" in the field of international political sociology.

How the West Came to Rule has also won IPEG book prize 2016. In its statement of award IPEG noted that "the book makes a very important theoretical and empirical contribution, tracing the brutal and bloody history of the origins of capitalism – a story that is only seldom told. The main contribution lays in linking the emergence of capitalism to the organisation of plantation slavery and colonialism. The book thereby challenges a vast range of existing works that have focused on the purely conjunctural or 'accidental' or so-called lucky factors to explain Europe's rise and the birth of capitalism".
SussexGlobal - the official blog of the School of Global Studies

SussexGlobal provides a space where students, faculty, alumni and associates can share research, experiences and opinions in their own words. Our aim is to provide a permanent home for these thoughts and experiences, providing lively and on-going discussions on the most pressing global issues today.
Welcome to International Relations at Sussex

International Relations is a fast-growing subject, reflecting the speed with which the world is changing.

We're renowned for challenging the mainstream approach to International Relations and as a student, you don't just learn about international institutions, you explore what the international system is, has been and could be.
Child and soldier image in rotating banner: Credit DVIDSHUB (original image cropped). Licenced by Creative Commons
International Relations events

No items are currently available.

View all events

International Relations news