Tom's perspective on MSc Advanced Computer Science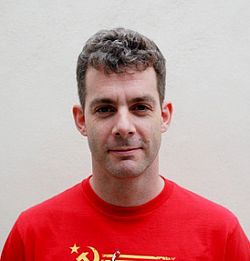 'I really enjoyed my year at Sussex doing the Advanced Computer Science MSc. It was a great opportunity to practice some skills which had rusted during recent years, go back to theoretical aspects of CS which I'd never properly learned, and explore some completely new areas like pervasive computing and adaptive systems.
'I think I particularly appreciated the course after spending 15 or so years in industry; being able to relate what I was learning back to situations or projects from my own past really helped motivate me.'
Tom Hume
Product Manager at Google
Dave's perspective on MSc Computing with Digital Media

'The decision to undertake postgraduate studies at Sussex was one of the best decisions of my life. The atmosphere, facilities, staff and other students made studying at Sussex a fantastic experience. The course was perfectly suited to expanding my knowledge of using, creating and maintaining multimedia applications, enabling me to pursue a career as a games programmer.
'A variety of topics were covered on the course ranging from low-level programming-orientated tasks designed to give a technical knowledge and understanding of the principles of multimedia applications to higher-level more art-orientated tasks using established professional multimedia software to create 3D environments.
'Learning both ends of the spectrum have proven invaluable since graduating; the more technical, in-depth skills are used on a day-to-day basis, while the artistic skills are more useful when interacting with the other disciplines in the work environment.

'All things considered I couldn't have wished for a better postgraduate experience.'
Dave Weekes
Software Engineer at Relentless Software
Josh's perspective on MSc Evolutionary and Adaptive Systems

'My experience at Sussex opened my eyes to the opportunities and possibilities of interdisciplinary research. I learned how to seek the interfaces between disciplines, unearth the unasked questions and untried solutions that lie there, how to think laterally, ask the right questions in unfamiliar domains, and collaborate with people from different cultures and fields. But, most importantly, I became part of a worldwide community of current and past PG members who bring not only a sense of wonder to the discovery process, but also a sense of humor and fun.'
Josh Bongard
Associate Professor at the University of Vermont