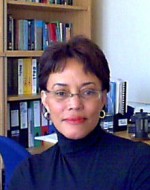 Prof
Donia Scott
Barker, Leon, Scott, Donia R and Cassell, Jackie A (2013) Evaluating user response to patient health records represented in temporal and non-temporal form. Proceedings of the Human Factors and Ergonomics Society Annual Meeting, 57 (1). pp. 1517-1521. ISSN 1541-9312
Liang, Shao Fen, Scott, Donia, Stevens, Robert and Rector, Alan (2013) OntoVerbal: a generic tool and practical application to SNOMED CT. International Journal of Advanced Computer Science and Applications, 4 (6). pp. 227-239. ISSN 2158-107X
Scott, Donia, Barone, Rossano and Koeling, Rob (2012) Corpus annotation as a scientific task. In: The Eighth International Conference on Language Resources and Evaluation (LREC'2012), 23-27th May, 2011, Istanbul, Turkey.
Liang, Shao Fen, Scott, Donia, Stevens, Robert and Rector, Alan (2011) Unlocking Medical Ontologies for Non-Ontology Experts. In: 10th Workshop on Biomedical Natural Language Processing , (BioNLP-2011), Portland, Oregon..
Liang, Fennie, Stevens, Robert, Scott, Donia and Rector, Alan (2011) Automatic Verbalisation of SNOMED Classes Using OntoVerbal. In: 13th Conference on Artificial Intelligence in Medicine , (AIME'11), Bled, Slovenia..
Direne, A, Bona, L, Sunye, M, Castilho, M, Silva, F, Garcia, L and Scott, D (2009) Authoring adaptive tutoring systems for complex visual skills. In: Ninth IEEE International Conference on Advanced Learning Technologies, (ICALT-2009), Riga-Latvia.
Scott, Donia (2009) Editing OWL through generated CNL. In: Workshop on Controlled Natural Language, (CNL'09), Marettimo, Italy..
Direne, Alexandre, Sunye, Marcos, Castilho, Marcos, Silva, Fabiano, Bona, Luis, Garcıa, Laura and Scott, Donia (2008) Acquiring expertise in medical radiology through long-term interactions. In: Proceedings of the 21st IEEE International Symposium on Computer-Based Medical Systems, 2008, Jyvaskyla, Finland.
Scott, D and Hardcastle, D (2008) Can we evaluate the quality of generated text? In: 6th Language Resources and Evaluation Conference, (LREC'08), Marrakech, Morocco.