The Planet Bethlehem Archive grows out of an ongoing collaboration between film maker Leila Sansour, historian Jacob Norris and the University of Sussex. The archive will constitute an open access digital resource that documents Bethlehem's history and culture. It will later provide digital content for the wider Planet Bethlehem initiative - an online platform for experiencing the city's unique culture in new and immersive ways.
People from Bethlehem are today scattered all over the world. Around half a million are thought to reside in Latin America alone, many of whom trace their origins to the migrations of the 19th century. Meanwhile those who have remained in Bethlehem or moved there more recently as refugees and economic migrants have been indelibly affected by the city's global outlook.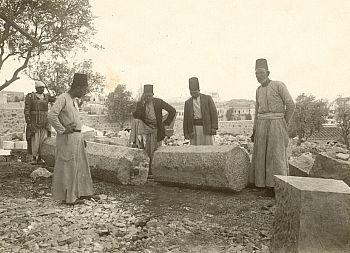 Every Bethlehem family has a story of movement, dislocation and adaptation to tell. Documenting these stories is today more important than ever. Situated within the Palestinian West Bank, the city now lies in a precarious position under Israeli occupation. Residents are ever more restricted in their movements, hemmed in by the 8-metre high Separation Wall and a network of Israeli settlements. The Planet Bethlehem Archive will provide a platform for Bethlehemites to reconnect with their diasporic heritage, bringing together into one digital space the myriad global connections that have long defined this most famous of Palestinian cities.
The archive will be stored within the University of Sussex's data repository and made freely accessible to the public. Its starting collection consists of thousands of images, audio recordings and video footage compiled by Leila Sansour over 10 years of documentary making in Bethlehem. Over time it will expand to incorporate contributions from around Bethlehem and its global diaspora, as well as institutional holdings relating to the city and its past. The archive team will also be creating a collection of 3-D digital models of the devotional objects produced in Bethlehem that played a central role in the migrations of the Ottoman era.
The archive is planned for launch in the summer of 2021. Proposals from individuals or organisations interested in contributing materials are welcome. For updates on the archive's progress please visit our project blog: https://pbarchiveblog.wordpress.com