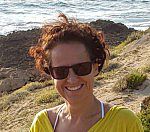 Dr
Raffaela Puggioni
Biography
Raffaela holds a Laurea [BSc and MA equiv.] in Political Science from the University of Sassari (Italy), an MA and a PhD in International Relations from the University of Kent (UK), and fourteen-year teaching experience in international Studies/Political Science in both UK and US systems of higher education, in countries as diverse as Italy, China, Azerbaijan and India.
Raffaela has recently joined the School of International Affairs at O.P. Jindal Global University (India) as Associate Professor. She is currently Associate Member at The Centre for the Study of Global Human Movement (University of Cambridge, UK), Global Studies Research Associate at the University of Sussex, and Associate Fellow at the Higher Education Academy (UK).
Raffaela' s research expertise cuts across the field of International Relations Theory, Migration Studies, Citizenship Studies, Resistance and Border Studies. Although her research is globally-oriented, most of her research has focussed on the Italian/European migration framework, with special attention to everyday practices of resistance. Her work has appeared in leading international journals such as the Journal of Refugee Studies, Political Studies, Citizenship Studies, and Third World Quarterly, and her monograph, Rethinking International Protection, has been published with Palgrave in 2016.
She is currently the Book Review Editor as well as a member of the Editorial Board for the International Journal of Migration and Border Studies.
Role
Raffaela Puggioni is currently Global Studies Research Associate.