Unleashing the power of purpose: Global Studies PS staff embrace Volunteering Day
By: Maria Andreou
Last updated: Wednesday, 15 November 2023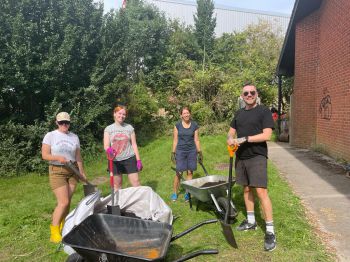 In Global Studies, we believe in making a positive impact both within and beyond the office walls.
Friday 9 September 2023 was a day of sunshine, service and unity, which found members of our Education and Research teams seizing the opportunity provided by the University's Volunteering Leave Policy, to embark on a day of giving back to the community.
Coordinators Kit, Meg, Clare and Camila, and Research Administrator Amy, chose to extend a helping hand to the Old Boat Community Centre. Old Boat is a welcoming community space which provides an inclusive, safe and versatile space, with activities, to meet the needs of residents of both the local community and the wider Brighton and Hove area.
The team's day was dedicated to labouring in the community garden, tackling two substantial tasks that would contribute to the Centre's mission of fostering community well-being, and they were joined by the Centre's lead gardener Nicky, who helped direct the project throughout the day.
The first task they were assigned was to clear a large overgrown verge of weeds and to do a general sprucing up of the area. The second (and far harder) task was to move a large delivery of compost from the unloading bay up the hill to where a group of new planting beds had been set up by a group doing community service.
Under the warm sun, the team found the experience overwhelmingly positive and, whilst it was fun to get out of the office and do something very different, the mission and goals of the community centre are so in step with the values of our School.
The team said: 'We strongly recommend taking advantage of the volunteering leave, especially if you can do it as part of a group, though be prepared for sore backs and aching limbs the day after.'
Reflecting on the Centre, one of the team members remarked that it was a shame that spaces like this are a necessity, arising from over 13 years of cuts to public services and the impact that has on our communities. Old Boat themselves remarked on the growing reliance of people on the services they deliver, reflecting on the power of people working together for common good and the alternative ways in which our lives can be structured and better fulfilled when we place the care of those around us first.
We are proud to be contributing to a better world, one volunteering day at a time.