Sussex academics secure large external grant to ramp up successful climate adaptation and resilience research
Posted on behalf of: Sussex Sustainability Research Programme
Last updated: Thursday, 7 September 2023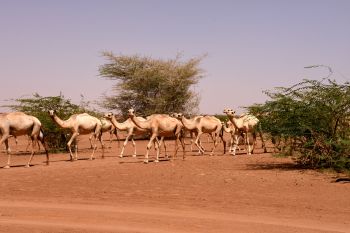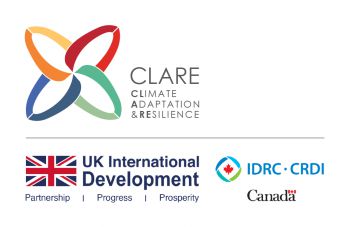 The current food insecurity over the Greater Horn of Africa region is deeply alarming, with millions among the pastoral communities particularly affected. Whilst the evolving food crisis in the Greater Horn of Africa has been well monitored and forecasted, the extent of early actions however has been demonstrably insufficient to save lives and livelihoods.
Academics from across the School of Global Studies and School of Mathematical and Physical Sciences at the University of Sussex have been carrying out research over the past decade seeking to build the resilience of local communities in Africa through modelling of climate risks and early warning of extreme climate events such as drought forecasting. Under the 'Climate Adaptation and Resilience' (CLARE) programme, jointly run through the UK Foreign, Commonwealth & Development Office (FCDO) and Canadian International Development Research Centre (IDRC), the research team has now secured major external funding to continue this impactful stream of work, with a particular focus on pastoral communities living in the cross-border regions in the Horn of Africa.
Building on previous interdisciplinary research, including projects financed by the Sussex Sustainability Research Programme (SSRP), the large $8 million Canadian dollar grant received through the CLARE initiative will allow the project team to address research gaps by co-developing early action plans with pastoral communities and local institutions in Ethiopia, Somalia, South Sudan, Uganda and Kenya. Using transdisciplinary approaches and predictive multi-hazard impact-based forecasts, the project aims to strengthen 'PAStoral livelihoodS in the African Greater horn through Effective anticipatory action' (in short: 'PASSAGE').
The projects awarded under CLARE, one of the world's largest initiatives in adaptation research, were officially announced at the first Africa Climate Summit 2023 [4-6 September 2023] in an effort to bridge critical gaps between science and action and drive effective, socially-inclusive solutions. Whilst in Nairobi, UK Minister for Development and Africa, Andrew Mitchell, announced the new CLARE projects worth £49 million and called for rapid reform of the international financial system to unlock trillions of dollars to combat climate change: "Our partnerships with African countries on green investment and climate resilience are growing economies and improving lives. But more action has to be taken, as those least responsible for climate change are increasingly bearing the brunt of its effects."
PASSAGE brings together a diverse team, particularly focussing on the transboundary regions within the East African region as these host the most vulnerable pastoral communities with acute malnutrition levels. Collaborating institutions include the National Drought Management Agency; University of Nairobi; Regional Centre for Mapping of Resources for Development; Climate Prediction and Applications Centre; and the World Food Program.
SSRP board member and project lead, Dr Pedram Rowhani (School of Global Studies), explains how this external funding is helping to scale up their place-based research: "With their own specific social, political, and ecological contexts, these borderlands represent a particular challenge. PASSAGE aims to work closely with local communities in the region to develop actionable adaptation solutions to the various climate-related risks that they may face and to strengthen cross-scale agency to do and use research for equitable, locally-led adaptation action."
Rather than reactively 'firefighting' and imposing short-term emergency measures, the interconnected sustainability challenges of food insecurity, climate hazards and threatened livelihoods, must be tackled by carefully assessing risks and opportunities and implementing long-term proactive solutions which are locally grounded and contextually sensitive to climate change.
Through 'knowledge and learning hubs', the team behind PASSAGE will co-produce knowledge for action with all sections of pastoral societies as well as risk narratives that incorporate tried and tested local and traditional knowledge to reach vulnerable pastoral communities. Expected results include improved scientific understanding of climate change effects on pasture conditions, novel socio-ecological models, enhanced drought forecasting, and recommendations for impactful anticipatory actions. These approaches should help local stakeholders in managing extreme climate events adequately and effectively in the future.
---
Read more about the award in the official FCDO press release.
To find out more about the PASSAGE project, visit their website and take a look at previous work undertaken by the research team on predicting food security crises and effective responses, funded by the Sussex Sustainability Research Programme (SSRP).
SSRP is delighted to announce that another previously SSRP-supported stream of work has been successful in the same external CLARE funding round. More about this achievement and the researchers' project plans to support climate-resilient and socially just adaptations in tropical drylands will be uploaded here soon.