Library service update - roadmap out of lockdown
By: Ciaran Clark
Last updated: Monday, 12 April 2021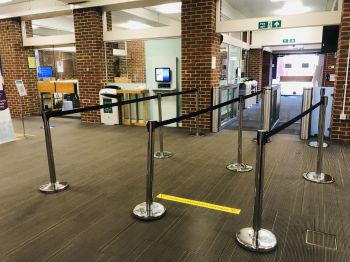 On 8 April, in the Library we will begin our roadmap out of lockdown in accordance with University Health & Safety and government guidelines.
We will be reintroducing study spaces, increasing to 395 bookable study spaces whilst maintaining 2m social distancing. Visitors will still need to wear masks at all times in the building. Study spaces will also continue to be provided at Pevensey and York House.
We will also be increasing our opening hours from 8.30am to 11pm on weekdays. Our staffed hours will be 8.30am to 4pm. We will be maintaining our weekend opening hours of 10am to 5pm, and Library staff will also be operating the Library chat service.
On 13 April The Keep will reopen. Numbers will be limited and advance booking will be essential, but ten people per day will be able to visit the Reading Room. Visitors will also be able to order up to three documents in advance. Please check the Keep's webpages for more details.
From 1 July, we will also be increasing our Library staffed hours.
Throughout the summer months, we will be reviewing Library operations and services in accordance to Health & Safety and government advice. Click and collect, shelf browsing, seat booking and seating capacity will all be reviewed.
From September, we hope to revert to 24-hour opening, and staffing the Library as usual.
We will continue to offer a wide range of services online. We have more resources available online than ever before. EBooks, online 1-2-1s, student support and Library chat are all still available for those who can't visit the Library. If you need help using any of our online resources, take a look at our Search Skills Guide or book a Zoom 1-2-1 with a member of Library staff.
Get in touch on Library chat, via email library@sussex.ac.uk or on social media @sussexlibrary. We can answer any questions you might have on entering the building or accessing our services online.
(All dates are subject to change according to governmental and/or University Health & Safety guidance. The roadmap assumes a continuation of the 2m social distancing rule within the Library building until advised otherwise. The adoption of the University's Remote Working Framework will also be taken into account as plans are developed.)