Global Studies alumna receives Development Studies Association PhD thesis prize
By: Maria Andreou
Last updated: Friday, 2 June 2023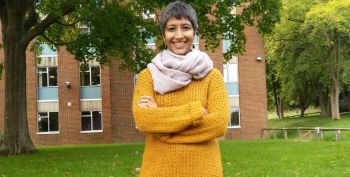 The Development Studies Association (DSA) has recently awarded Dr Kaveri Medappa's PhD thesis, "Chasing Targets, Making Life: An ethnographic study of platform–based cab drivers and food delivery workers in Bengaluru, India", the 'highly commended' entry for the 2023 DSA PhD thesis prize. Kaveri completed her PhD in the School of Global Studies (International Development) in July 2022 and was supervised by Dr Rebecca Prentice and professor Geert De Neve.
In 2022, the DSA unveiled The DSA PhD Thesis Prize, specifically designed for doctoral students specializing in International Development, Development Studies, and Development Economics, to recognize the most outstanding PhD theses in these fields from among the DSA's current members.
All relevant departments in the UK, which are affiliated with the DSA, are invited to submit a single PhD thesis for evaluation and potential recognition. This prestigious award is presented annually, and Kaveri has been invited to receive her award at the DSA annual conference in June 2023.
Kaveri is currently working as a postdoctoral researcher at the University of Oxford on an ESRC–funded project that seeks to visibly and improve the working lives of Heavy Goods Vehicles (HGV) drivers in the UK. Kaveri's research interests include interrogating the politics of development, urban transformations, studying the experiences of mobile workers, everyday lives and their intersections with finance capital and digital technologies and qualitative research methods.
Her doctoral thesis presents the steadily deteriorating work and life experiences of app–based cab drivers and food delivery workers in Bengaluru, and places it within the broader context of already existing informal labour relations, the powerful discursive and policy push towards 'digital–led development' and enterprise culture. It is an account of why people are drawn to these jobs, how platform companies use various tactics to hook workers and extract value from them, and also how workers – who are indeed not a homogenous group – cope with worsening work–life conditions individually and collectively.
The judges said: "Kaveri Medappa, addresses the timely topic of platform–based cab drivers and food delivery workers in Bengaluru, India. One of the strengths of the thesis is the way it demonstrates nuanced, careful attention to detail in the fieldwork through showing the extreme variability in the category of 'worker' and how this influences workers' interactions with the platform and in turn shapes their work, ambitions and earning potentials. There is clear and clever integration of theory and empirical data throughout the chapters, supporting their novel focus. It is unusual to see theory used so confidently – we remarked that the theoretical reflections were simply written and yet are present throughout the thesis, in tandem with empirical data. Finally, the thesis itself was immaculately presented and a pleasure to read; we can see it translating with ease to an accessible monograph."
Kaveri said: "It's such an honour to receive this recognition from the DSA. But as someone wise once said to me, a PhD is a collective project and I know my PhD would not have materialised without the support and guidance that I received from several faculty members and friends at the School, and most importantly the care and intellectual nurturing that I received from my supervisors, Becky and Geert. I also want to thank the University for funding my PhD through the Chancellor's International Research Scholarship. Sadly, this scholarship does not exist anymore. I for one know that I would not have even considered doing a PhD if I had to self–finance my studies. So, I really hope the University makes available sources of funding for PhD students, especially for students from the global South."
---