"Turning off lights is fine, but climate change requires dramatic political action"
By: Jacqui Bealing
Last updated: Monday, 18 February 2019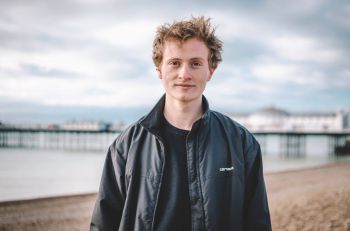 Sussex student and climate activist Sebastien Kaye is among the panellists of The Exchange debate, 'Can Veganism Save the Planet', on 21 February.
I was lucky enough to have a philosophy teacher in school who linked philosophy to climate change and the existential issues that come with environmental degradation. Through that I became quite passionately involved with climate activism.
I grew up in Brussels and have dual nationality. My Dad's English and works as a civil servant. My Mum, who's French, is a therapist. Being on the doorstep of EU institutions gave the youth-based climate group that I was at the forefront of opportunities to actually try to put pressure on the EU politicians.
I met Miguel Canete, the European Commissioner for Climate Action and Energy, to try to push him on issues of great transparency when it comes to emission reductions and the various ways carbon budgets are talked about in climate change policy.
I chose Sussex because of its active student engagement and its level of political awareness of environmental degradation. I think that's notably because Caroline Lucas is the Green MP here. I believe I've played a role in fostering that appetite by creating a society called Climate Action Movement (CAM).
CAM has become a locus of youth-based climate activism in both the practical and theoretical sense. We don't just do things, we provide a space for students to present ideas and to think critically about salient environmental discourses and identify their limitations in order to overcome them.
I also I volunteer for and am a trustee of Plan B Earth, which is a charity focused on holding the British government to account for climate harms. We have filed two lawsuits against the government. The first, which was unsuccessful for various reasons unfortunately, was to compel the government to rectify their 2008 climate change act to comply with the commitments as laid out in the Paris Agreement of 2015. That lawsuit was about identifying the very simple contradiction between the political symbolism of signing up to the Paris Agreement and the political reality of not actually reducing emissions in accordance to it.
The other lawsuit is concerned with blocking the building of a third runway at Heathrow. We are one of several claimants. Heathrow's expansion is a very contentious issue, although it had overwhelming cross-party support in a vote for it last summer. If we are successful it will send a message to parliament and to the executive about the power we have as citizens to hold them to account through the judiciary, and also to get them to start taking climate change seriously.
Tweaking our lifestyle choices, like turning off lights … those things are fine, but they don't go far enough. Everyone really knows that now. If anything I feel empowered by being part of an organisation and with friends and colleagues who are holding the government to account.
It's obviously mind-warpingly difficult to deal with such an existential problem. And that's not helped by the fact that older generations, or the political sphere, seem to prioritise the laws of the economy over the laws of physics.
The question isn't can climate change be stopped, it's to what level we can limit the destruction. It's already here and poses a very existential problem to my generation, to future generations and to older people alive today. The 40-year-olds alive today will be the 80-year-olds tomorrow. Various people in important political positions are in their 40s, such as the French president Emmanuel Macron. We all know that heatwaves and other hazards that are consequences of climate change dramatically affect elderly people.
Something interesting is happening in the States. It's being called the Green New Deal and it seeks to bring about sweeping infrastructure and policy changes that can lead us to a far more carbon-neutral economy. It's the creation of a political space that would allow policy proposals to be implemented down the road. Obviously it's good if you lead your life with a low carbon footprint. But I would rather green the political sphere.
It certainly is interesting to look at why climate change has taken off in the last six months or so, with protests on local, national and global levels. For the first time it seems that concern for climate change has a broad base of people who aren't just your traditional fist-waving students or hippy climate activists.
I have loved being in a university campus environment that's in the Downs. Having that access to the surrounding environment has been a real pleasure. I do a lot of walking. I feel a little bit embarrassed to admit that I didn't take as much advantage of the Downs as I should have, but I'm going to make the most of it before I leave Brighton to go to Oxford to do an Msc in Nature, Society and Environmental Governance.
Sebastien will be taking part in The Exchange debate 'Can Veganism Save the Planet' at the University of Sussex on 21 February at the Attenborough Centre for the Creative Arts.