Outreach at the beach: Soapbox Science returns to Brighton in June
By: Jessica Gowers
Last updated: Wednesday, 30 January 2019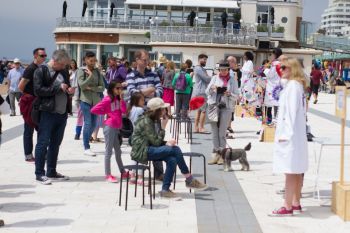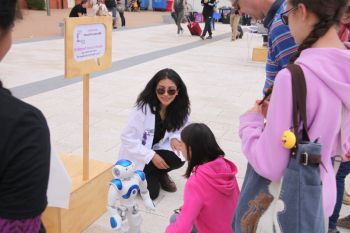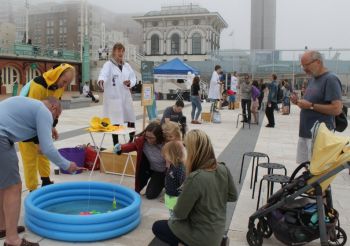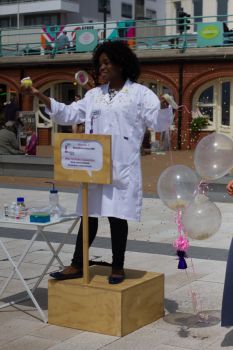 Take your science to the seafront, share your research and inspire passers-by at Soapbox Science.
If you are a woman in STEMM (Science, Technology, Engineering, Maths and Medicine) and are passionate about sharing your research and inspiring the next generation of scientists, this event could be for you.
Soapbox Science is returning to Brighton seafront on 1 June 2019 and the call for speakers for is now open. The deadline to submit an online application is 1 March 2019 at 11am GMT.
What is Soapbox Science?
Soapbox Science is an innovative public outreach platform for promoting women scientists and the science they do.
Events are hosted across the UK and the world that celebrate women in STEMM, breaking down barriers and challenging stereotypes about who a STEMM researcher is.
Soapbox Science events transform public areas into an arena for public learning and scientific debate; they follow the format of London Hyde Park's Speaker's Corner, which is historically an arena for public debate.
Soapbox Science provides an opportunity for everyone to enjoy, learn from, heckle, question, probe, interact with and be inspired by some of our leading scientists. No middle person, no powerpoint slide, no amphitheater – just remarkable women in science who are there to amaze you with their latest discoveries, and to answer the science questions you have been burning to ask.
What is Soapbox Science Brighton?
The Brighton event, now in its third year, is organised by a group of staff at the University of Sussex.
Katy Petherick, Public Engagement Coordinator at the School of Life Sciences and event organiser, said: "We had a wonderful line-up of really talented scientists speaking about a wide range of subjects last year and we can't wait to see who applies for this year. Soapbox Science is open to researchers from PhD to professor, as well as non-academics such as entrepreneurs, designers and inventors."
Raysa Khan, Research Fellow in Chemistry at the University of Sussex, took part in last year's event. She said: "As a scientist we don't want to operate in an academic bubble and it's really important for us to be able to explain our research to the wider public in layman's terms.
"The Soapbox Science format offers a really fantastic opportunity to engage directly with the public and we're hopeful the day will be a great learning experience for both beachgoers and for all us scientists taking part."
To see what Soapbox Science Brighton looks like in action, check out the 2018 and 2017 videos.
This year's event will take place on 1 June 2019. Speaker applications are now open are welcomed from anyone who identifies as a woman in STEMM. Applications are particularly encouraged from:
Professors in any STEMM subject
People who identify as a minority in STEMM
People working in Chemistry, Maths, Engineering, Technology
Soapbox Science uses an inclusive definition of "woman" and "female" and welcomes applications from trans women, genderqueer women, and non-binary people who for the purpose of this event feel comfortable being female-identified.
The application deadline is 1 March 2019 at 11am GMT.