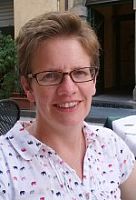 Dr
Grace Carswell
Biography
Biography
Grace Carswell is a senior lecturer in Human Geography, and has been at Sussex since 2000. Her earlier work looked at rural change in eastern Africa. Her PhD at SOAS explored on agricultural history of Kigezi, southwestern Uganda, and she then worked at the IDS on the Sustainable Livelihoods Programme, undertaking research in southern Ethiopia. More recently she has shifted her attention to explore similar themes in southern India. In 2008-9 she undertook a year of fieldwork in Tamil Nadu, India, as part of a DfID-ESRC research project. And in 2011 she carried out further research in the same area looking at NREGA.
Research Interests
Grace's research interests include rural livelihoods, population-environment interactions and agricultural change. After an initial research focus on Eastern Africa (specifically Uganda and Ethiopia), Grace has recently shifted her attention to southern India. As part of a DfID-ESRC research project she has been investigating changing livelihood strategies of rural populations that are increasingly dependent on, or affected by, export industries. In particular she has been looking at the differentiated impacts of enhanced integration in the global economy on rural households, and ensuing transformations in rural social relations.
In 2011 she began a research project exploring India's National Rural Employment Guarantee Scheme, funded by the British Academy.
Research Grants
2011-2012 - India's National Rural Employment Guarantee Scheme: livelihoods, gender and migration in Tamil Nadu (British Academy)
2008-2010 - Transforming Livelihoods: work, migration and poverty in the Tiruppur garment cluster, India (DfID-ESRC)
2001-2004 - Labour, institutions and social capital: Uganda (Leverhulme Special Research Fellowship)
Forthcoming publications
De Neve G and Carswell G (forthcoming) T-shirts and Tumblers: caste, politics and industrial work in Tiruppur's textile belt, Tamilnadu Contributions to Indian Sociology.
Carswell, G and G De Neve (forthcoming) Women at the crossroads: a village study of MGNREGA implementation in Tamil Nadu. Economic and Political Weekly
Carswell, G and G De Neve (forthcoming) MGNREGA in Tamil Nadu: a Story of Success and Transformation Journal of Agrarian Change.
Carswell G and R Cripps (forthcoming) Sounding a note of caution: comparisons between official and ethnographic data on NREGA in Tamil Nadu. Economic and Political Weekly.
Recent publications
Carswell, G., (2013) Dalits and local labour markets in rural India: experiences from the Tiruppur textile region in Tamil Nadu. Transactions of the Institute of British Geographers 38(2): 325-338.
Carswell G and De Neve G (2013) Labouring for global markets: Conceptualising labour agency in Global Production Networks Geoforum 44(1): 62-79
Carswell G and De Neve G (2013) From field to factory: Tracing bonded labour in the Coimbatore powerloom industry, Tamil Nadu Economy and Society 42(3): tbc.
De Neve G and G Carswell (2011) 'NREGA and the Return of Identity Politics in Western Tamil Nadu', Forum for Development Studies 38(2): 205-210.
Earlier publications
Carswell G (2007) Cultivating Success in Uganda: Kigezi farmers and colonial policies. Oxford: James Currey and British Institute of Eastern Africa series, and Ohio University Press.
Carswell G (2006) 'Multiple historical geographies: responses and resistance to colonial conservation schemes in East Africa', Journal of Historical Geography, 32(2): 398-421
Carswell G (2003) 'Continuities in environmental narratives: the case of Kabale, Uganda, 1930-2000', Environment and History 9(1): 3-29.
Carswell G (2003) 'Food crops as cash crops: the case of colonial Kigezi, Uganda' Journal of Agrarian Change 3(4): 521-551.
Carswell G (2003) 'Soil conservation policies in colonial Kigezi, Uganda: successful implementation and an absence of resistance', Chapter in W. Beinart and J. McGregor Social History and African Environments. Oxford: Heinemann and James Currey, pp131-154.
Carswell G (2002) 'Livelihood diversification: increasing in importance or increasingly recognised? Evidence from southern Ethiopia' Journal of International Development 14(6): 789-804.
Carswell G (2002) 'Farmers and fallowing: agricultural change in Kigezi district, Uganda' Geographical Journal 168(2): 130-40.
Spring-Summer 2013
Environmental Perspectives on Development (2nd year, Development Studies)
Rural Livelihoods in the Global South (3rd year)
Globalisation and Rural Change (Masters)
Denise Dunovant - Forced urban migration in Northern Uganda: A case study of Atyak displacement to Gulu town and (potential) return 'home'.
Grace has supervised one PhD student to completion:
Moushumi Chaudhury (2007) Conservation, Participation, and Development: The Rhetoric and Reality of Medicinal Plant Policies in Nepal,
Student Consultation
Assessment Block 2 (Summer 2013):
I will not have fixed office hours, but will be available by appointment. Please email me if you'd like to arrange a time.