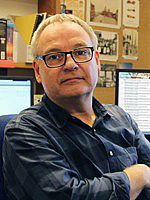 Mr
Martin Wingfield
Biography
BA (Open 1992) PG Cert Computing (Open 2006)

I came to Geography at Sussex back in the days of VAX terminals, PET and Apple II europlus microcomputers and my job has evolved with the advance of computing from using BBC Basic on the BBC Bs and Acorn Archimedes in the 1980's through to setting up one of the first university web sites for Geography on a Sun SPARCStation back in the 1990s and then on to the present day working as chief website editor for a large number of Sussex sites.
Role
I manage the following websites:
School
Departments
Research Centres
Research Projects
Other Sites
I manage the file server geoserver1 which is the geography central storage system, with over a terabyte of drive space, used for storing research data and images and which is shareable from users' desktops.
I manage the Geography department's Twitter account - @SussexGeog and the Los Angeles field class Twitter account - @SussexGeogLA.
I also maintain a number of Geography staff and student email groups and the Postcolonial email group.
I assist on the Los Angeles field class for second year geographers and help produce our LA Blog.