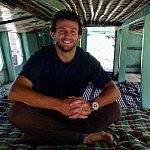 Dr
Christopher Smith
Biography
Christopher is a Research Fellow in Geography. Before his current appointment at Sussex he held a three-year Marie Curie Outgoing International Fellowship, based at the University of Sydney, Australia, and Can Tho University, Vietnam. He completed his PhD, modelling the impact of changes in rainfall on migration in Burkina Faso in 2012.
Role
Christopher is currently working on the 'Migrants on the Margins' project, the Royal Geographical Society's three year Field Research Programme that seeks to understand situations where internal migration does/does not lead to livelihood success in Colombo, Dhaka, Hargeisa, and Harare.
Qualifications
DPhil Geography, University of Sussex, UK. Thesis title: "Assessing the impact of climate change upon migration in Burkina Faso: An agent-based modelling approach". Funded by an interdisciplinary studentship from the Economic and Social and Natural Environment Research Councils (ESRC and NERC).
MSc Environmental Technology, University of Hull, UK. Masters thesis explored the potential for the fine-tuning of an oscillating wave power device through quantification of 'added mass'. Funded by the Engineering and Physical Sciences Research Council (EPSRC).
BSc Geography (First Class), University of Sussex, UK. Undergraduate thesis explored the existence of statistical links between changing climate variables and the occurrence of communicable disease in the Seychelles.