Drama offers you an exciting mix of creative and critical thinking, combining theory and practice to open up interdisciplinary approaches to the study of drama, theatre and performance. Our modules explore a broad range of materials, from canonical plays to critical theory, with a particular focus on contemporary practice.
Our teaching and research have been recognised nationally and internationally:
Ranked no 2 in the UK for Drama Studies in The Times and Sunday Times Good University Guide 2020).
Ranked no 2 in the UK for Drama in the Independent Complete University Guide, 2020
Ranked 9th in the UK in the most recent Research Excellence Framework (2014 REF).
Our courses

Explore our courses:



Our teaching

Available as a Single Honours Drama, Theatre and Performance degree, or as a Joint Honours degree with English or Film, Drama at Sussex offers modules that focus on a broad range of theatre and performance practices, taught through a combination of seminars and practical workshops. Our faculty are theatre-makers, performance artists, theatre historians and performance theorists. They are experts in diverse interdisciplinary approaches to the study of drama, theatre and performance. Performance in its broader sense is studied as a range of political, social and culturally transformative practices.

Each year, you will choose a variety of seminar and workshop-based modules, both core and optional. The first year is introductory, developing key skills in critical thinking, academic writing and performance making. In the second year, study progresses, focusing on new developments in contemporary performance practice alongside optional modules in writing for theatre, directing or composing performance material, and/or performance practices. Final year modules respond directly to evolving faculty research interests, equipping students with the tools to shape their own Independent Research Projects (both written and practical) in the final term.

Students make regular theatre trips to the on-site ACCA (Attenborough Centre for the Creative Arts), which frequently hosts cutting-edge performance work tied directly into our teaching, as well as theatres in Brighton and London. Workshops with some of today's most significant practitioners complement regular modules, providing students with the valuable experience of working alongside professionals within the industry. Recent visiting artists have included members of prominent theatre companies such as Forced Entertainment and Gob Squad; performers Ursula Martinez and Karen Christopher; playwrights Tanya Ronder, Roy Williams and Claire MacDonald; designer Jennie Norman; and director Michael Attenborough.

Single Honours students also take part in a Final Year Performance Project, rehearsed to professional standards and open to the public, and have the option to pursue a professional placement. Our students have recently undertaken placements at the National Theatre, London; the Marlborough Theatre, Brighton; the Live Art Development Agency, London; BHT First Base Day Centre, Brighton; and Digital Theatre, London.
'By creating your own theatre practice, as well as critiquing a wide range of theatre texts and performance styles, you gain a broad knowledge of both theatre today and throughout history. The tutors are academically inspirational and have been supportive throughout my degree.'
Alice Helps
Drama and English BA
Skills and careers
The study of Drama at Sussex will help you to develop the intellectual and practical skills to learn independently, to write expressively, and to communicate what you have learnt to others. You will develop these through various methods of teaching (small-group seminars and practical workshops) and types of assessment (including coursework, portfolios, independent research projects and collaborative devising processes). You will develop skills in writing, research, critical analysis and debate that pertain to all robust Humanities degrees. In addition, Drama develops your ability to generate creative ideas and work effectively in groups. The knowledge you gain is transferable to a wide range of professional contexts. As a result, our students enter different career pathways in the theatre industry (such as acting, directing and producing), teaching, the media (film and TV), law and journalism as well as continuing on to further study or professional training.
'I've always been interested in a career in theatre but prior to going to Sussex I was mainly interested in the performing side of things. My time at Sussex changed this so that I became more interested in directing and developing the interest in writing that I have always had.
'After graduating I knew I wanted to forge a career in theatre, I also knew this to be very hard and one of the best ways I saw to do it was to make my own work by setting up my own theatre company. I also write various articles for online publications related to theatre and the arts as well as writing work for theatre and film. My desire to get experience and to work in the cultural sector has driven me to take up any opportunity available. I think my time at Sussex helped me hugely to become the kind of person who could set up their own company and have enough ambition and confidence in their work to be able to do this. My writing skills developed a lot over the course of my degree and this was both through working on essays and doing specific courses in Drama such as Writing for Theatre.'
Ellen Carr
Drama Studies and English BA
Facilities
Practical work takes place across a number of versatile venues including the ACCA, which contains multiple studios and a state -of-the-art 350 seat theatre; the Creativity Zone, a unique, technology-rich creative space reconfigurable for practical and multi-media teaching and performance; and the Silverstone Studio which hosts workshops and smaller scale productions.
The Attenborough Centre for the Creative Arts (ACCA)

Re-opened in Autumn 2016, the Attenborough Centre for the Creative Arts (ACCA) has been extensively redesigned. The space now hosts a state-of-the-art flexible auditorium with up to 350 seats (480 standing), gallery and display areas designed for art and audio visual installations, rehearsal studios, breakout creative spaces, and a new café and bar - to be enjoyed by students, staff and the public. Creative director Laura McDermott has programmed a number of artistic residencies from companies such as Gob Squad and Forced Entertainment, and a regular public-facing programme of work (examples include Simon McBurney's The Encounter, and Men and Girls Dance by Fevered Sleep). The ACCA has also hosted the SICK! Festival and operates as a key venue during the annual Brighton Festival.

Students make regular use of the ACCA for seminars and workshops, and two recent Final Year Performance Projects were staged in the main auditorium (Three Sisters, Spring 2016; Bluets, Autumn 2016). In another Performance Project called Weltarm (Spring 2016), our finalists made use of the entire building to create an immersive promenade piece exploring boundaries between the human and the non-human.

The Attenborough Centre for the Creative Arts (ACCA) Gallery

Images of the Attenborough Centre for the Creative Arts (ACCA) being used for teaching and learning.

The Creativity Zone

The Creativity Zone, located in Pevensey III, is a reconfigurable, technology-rich laboratory space, featuring over 300 individually controllable coloured LED lights, 7 plasma screen TVs, 7 projectors and 20 audio speakers. It has proven to be one of our most versatile teaching and theatre-making resources. Student projects developed in The Creativity Zone include Animating the Archive, a devised piece drawing on materials found in the Mass Observation Archive (part of the University's Special Collections) and Attempts on Her Life by Martin Crimp. The space also proves attractive to visiting artists. Most recently it hosted #negrophobia, a multimedia performance by Nigerian-American curator, choreographer and performance artist Jaamil Olawale Kosoko, as part of the SICK! Festival.

Creativity Zone Gallery

Images of the Creativity Zone being used for teaching and learning.

The Silverstone Studio

The Silverstone Studio is located on the ground floor of the Silverstone Building. It is an intimate black box theatre complete with control room, flexible lighting and sound system, curtain track and dressing room. The studio regularly hosts practical assessment work emerging from modules like Reading and Staging Theatre Texts, and, like all of the spaces listed here, it is also used by finalists as a site for practical Independent Research Projects in the final term.

Silverstone Studio Gallery

Images of the Silverstone Studio being used for teaching and learning.
'Studying Drama at Sussex is fantastic for multiple reasons. The facilities, especially the ACCA and the Creativity Zone, are so inspiring to work in, and the course content is bubbling with ideas that truly challenge how you critically view theatre. The best part of Sussex, though, is the tutors – they are all keen to use their professional, critical experience to help you get the absolute best out of the course!'
John Giannini
Drama, Theatre and Performance BA
Junior Research Associates
The University of Sussex Junior Research Associate (JRA) and Sussex Undergraduate Research Associate (SURA) are pioneering programmes which aim to develop future research leaders. They reward academic excellence by supporting high-achieving undergraduates to work alongside Sussex's top research faculty during the summer holiday. To find out more about these programmes, please visit our research pages.
Drama, Theatre and Performance student Zoe Bothwell (pictured below) exhibited her research about the politics and ethics of staging trauma in the work of Katie Mitchell.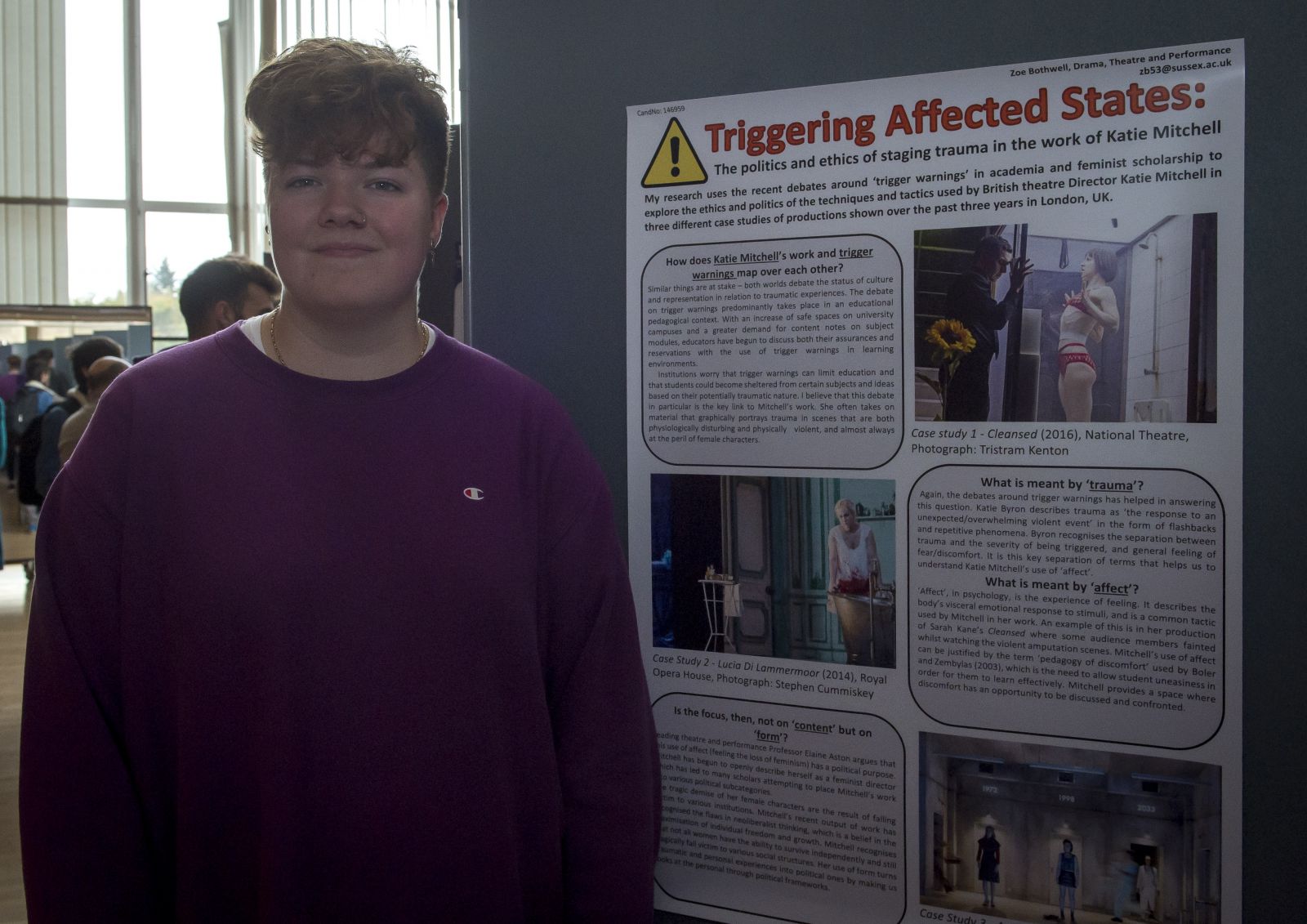 Contact us
For enquiries about undergraduate admissions:
Email: ug.enquiries@sussex.ac.uk
Telephone: +44 (0)1273 876787
You might also be interested in: