Product Design at Sussex is an exciting and progressive degree that focuses on adapting and shaping technology into useful products for real human and societal needs.
The course aims to meet the demands of 21st-century design by teaching a balanced blend of art, technology and science and offers students a chance to fuse their inspirational thinking with sound technological thinking.
Find out more about our Product Design degrees.
Student Final Year Project
Subject areas encompass research, critical analysis, design engineering, brand development, interaction design and human-centred design along with investigations into culture, psychology, ergonomics, art, science and commerce. This interdisciplinary knowledge base helps students explore their creative skills while considering all stages of the design process.
Students are introduced to some inspirational and creative teaching methods that not only aid in the development of their design, mathematical and engineering skills, but also encourage an empathic understanding of the user and an awareness of society and sustainability.
Students study many disciplines: from industrial design to packaging design, and furniture design to interaction design. Examples range from a toy design that improves emotional communication to a medical product that saves lives.
Our product design courses at Sussex facilitate real-life experience and help build up valuable industry links. Here you will work alongside a school of enthusiastic tutors, industry experts and practicing designers who will help develop and guide your passion for product design.
In addition to the Sussex Product Design degree show each year, the best graduate design students are selected to exhibit their work at the prestigious New Designers show in London each July.
Student Project
Walk through the sequence of images and explanations below, which takes you through the process 3rd year Product Design student Vladimir Keselak took in redesigning an inhaler holder.
Inhaler Holder project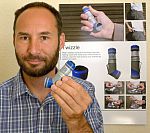 'It has been a great experience so far studying product design at the University of Sussex. There are a huge variety of modules on the course all of which are fundamental to product design, and they have inspired me to further explore many different topics, digital tools and technologies. The course itself is very immersive and led by dedicated lecturers with professional backgrounds who are always available to help. As a person with passion for design I feel that this course has not only helped me to develop my skills but also discover new avenues of how to apply the knowledge gained in this ever changing industry.' Vladimir Keselak – Product Design
Teaching and Learning on our Product Design degrees

Our Product Design courses involve a significant level of project based work to allow students' skills to develop at a practical level. Our degrees also integrate with the engineering syllabus at several points enabling students to work in multidisciplinary teams.

Interpersonal and professional skills are developed through teamwork and business and project management, whilst students are also required to produce portfolios, reports, presentations and physical protoypes to communicate their work.

In your third year, you will be able to focus on a subject of your own choice for your major project – an opportunity to show off your unique talent. Students on the Product Design with Industrial Placement degree also have the opportunity to gain valuable industry experience for their future careers during their third year, returning for a final year of study at Sussex.

Whatever your interests or intended career direction, you should find projects that are of interest to you on the Product Design degrees at Sussex.
Harry's student perspective
"I loved my course all the way throughout first year right to the end. The variety of modules and topics genuinely inspired me and I feel gave me all the information I could possible need to begin a career in design and product development. Furthermore, the constant presentations required during the course helped me to improve my confidence and the way in which I interacted with people around me. The dedicated lecturers (in particular Diane Simpson-Little) really made the course a pleasure to be on. I loved the way that no matter what the module or assignment set, students were always allowed to express themselves and explore areas that interested them."
Harry Hummerstone-Pope - Product Design
Product Design Final Project