The Brief
In 2015 students worked with the Engineering without Borders brief: Nepal Water for Health.
Nepal Water for Health (NEWAH) is an NGO in Nepal working towards clean drinking water, hygiene promotion and sanitation (WASH). They achieve this by working closely with communities in 51 districts across the country building the people's capacity to realise their rights to water and sanitation, and giving access to the required infrastructure.
This EWB Challenge was a fantastic opportunity for students to learn about and understand a wonderfully rich culture, and be involved in an exciting time of change for rural hill top communities in the Gorkha District, Nepal. An opportunity to learn, not just about the challenges facing their communities, but also about community development in general, and the role engineers and other technical professionals could play.
Global Design Challenge 2015 Workshops
Photographs from the 2015 Global Design Challenge workshops that took place during the spring term of 2014-15. This was the first year that the GDC became an integrated part of the School curriculum. Students were encouraged to research the contextual issues related to their chosen project briefs and contact time was limited to two hour weekly workshops. The module is assessed by group presentation.
The EwB 2015-15 Challenge Winners
For the academic year 2014-15, the EWB Challenge collaborated with Nepal Water for Health (NEWAH) to crowd-source student engineering design solutions to address basic access needs in the representative hill-top village of Sandikhola in the Gorkha District of Nepal.
Grand Prize Winner: Birmingham City University: The team designed a water harvesting system to help with the collection of water in Sandikhola and overcome the lack of water during the dry season. The system uses a fog-catching tower concept.
For their prize, the winners attended the International Educational Course run in conjunction with IRRI/CATIS in Mexico City to further their understanding of engineering in international development.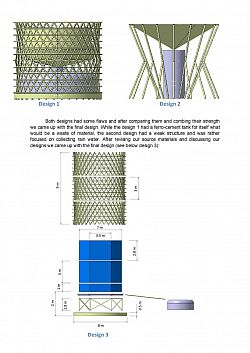 Birmingham winning water harvest report [PDF 824.25KB]
Runner-Up: University of Edinburgh: The team designed a water mill for the community of Sandikhola as a source of revenue by milling grain such as rice and corn grown locally. The design makes use of an existing V-notch weir in the village and the wheel itself is horizontal rather than the traditional vertical orientation.
For their prize the runners up team attended the UK based course 'So you think you want to be a relief worker' delivered by the EwB partner RedR.
Water Filter Challenge 2015
As part of One World Week 2015, the GDC team organised an activity stand where visitors could design and build their very own working water filter. Many thanks must go to the three student helpers, Fidel Olaye, Hussein Hussein and Victor Konde, who all worked hard, encouraging visitors to participate and teaching them something new.