Staff achievements in the Department of Engineering and Design
Engineering lecturer receives Early Career Teaching Excellence Award
Harri Koivisto, a research associate in the Thermofluid Mechanics Research centre and a Tutorial Fellow in Mechanical Engineering, was nominated by his students for a School of Engineering and Informatics Early Teaching Excellence Award.

Harri received strong nominating cases from his students, who cited significant evidence of achievement against a number of criteria, including stimulating and inspiring teaching, innovative or interactive approaches, effective organisation and management, and support and feedback to students, amongst others.
The Early Career award is for those with less than 5 years teaching experience.
More details on the award can be found on our news page.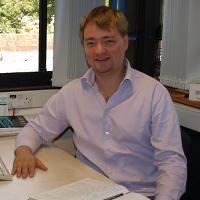 Aviation firm funds $1.6m Engineering project to improve aircraft engines
Dr Christopher Long, Head of the Thermo-Fluid Mechanics Research Centre will be leading his team on a project with one of the world's largest aviation technology companies.
GE Aviation, based in Ohio, USA, will work with engineering experts in Sussex's Thermo-Fluid Mechanics Research Centre (TFMRC) on two projects to help commercial airlines use less fuel, reduce engine emissions and save on the costs of development.
More details on this project can be found on our news page.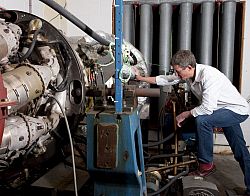 Vince Cable MP meets with Professor of Sensor Technology
Dr Cable visited the Sussex Innovation Centre (SInC) at the University of Sussex's Falmer campus to see how it has helped a range of high technology and innovative businesses to grow.
He met with Professor of Engineering Robert Prance, whose Electrical Potential Sensor (EPS) is being developed by Plessey Semiconductors Ltd for a range of applications in health and security.
More details on this visit can be found on our news page.