Open Days 2013

Book now for your open day visit on Friday 28 June or Saturday 29 June.
The School of Engineering and Informatics is divided into two departments - to find out more follow the links below to visit a department website:
Welcome from the Head of School
The School of Engineering & Informatics brings together the areas of mechanical and electrical engineering with informatics, in particular computer science and artificial intelligence, and product design.
Read more....
The School offers a range of undergraduate and postgraduate degrees in its areas of expertise and some are in collaboration with other schools at Sussex to create a distinctive focus that addresses the needs of industry, commerce and society. Examples include the joint degrees with the Department of Music in Music informatics, the MSc in Energy Technology that includes courses on energy Policy from the SPRU, the Science Policy Research Unit, and the MSc in Evolutionary and Adaptive Systems (EASY) that includes modules from Life Sciences and Psychology. This interdisciplinary approach also applies to our research where projects involve various schools, including Psychology, Life Sciences, Mathematical and Physical Sciences, Music and the Medical School.
Distinctive characteristics of the School are: creativity (for instance with degrees in Music Informatics and Product Design), interdisciplinarity (including research in biomedical engineering, artificial intelligence and computational neuroscience), strong links with industry (through teaching and research partnerships for example with Rolls Royce, Jaguar cars, Plessey semiconductors and American Express), and an international outlook (with around 30% of our students coming from outside the UK and academic staff and visiting researchers also from many countries).
Innovation is very important and research in the School has resulted in a number of successful commercial activities, including EPS sensors in partnership with Plessey Semiconductors and TEXRAD, a spin out company involved in medical imaging analysis.
The School has established a Strategic Advisory Board, chaired by a government chief scientist and senior industrialists covering the scientific interests of the School, provides important input into the strategic development of the School.
For further information please visit the Department websites: Engineering and Design - Informatics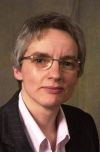 Professor Diane Mynors
Head of School
Can't find what you need? Please call the School office on +44 (0)1273 678048 / 8195