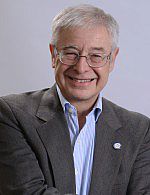 Prof
L. Alan Winters
Biography
L Alan Winters is Professor of Economics in the University of Sussex. He is a Research Fellow and former Programme Director of the Centre for Economic Policy Research (CEPR, London) and Fellow of IZA, Munich. From 2008 to 2011 he was Chief Economist at the British government's Department for International Development (DFID), and from 2004 to 2007 Director of the Development Research Group of the World Bank, the world's largest and leading group of development economists. He has previously worked as Division Chief and Research Manager (1994-99) and Economist (1983-85) in the World Bank and in the Universities of Cambridge, Bristol, Bangor and Birmingham. He has been editor of the World Bank Economic Review, associate editor of the Economic Journal, and is now editor of The World Trade Review; heserves on several editorial boards. He has also advised, inter alia, the OECD, DFID, the Commonwealth Secretariat, the European Commission, the European Parliament, UNCTAD, the WTO, and the Inter-American Development Bank.
L Alan Winters is a leading specialist on the empirical and policy analysis of international trade, especially in developing countries, and has recently also worked on migration, the brain drain and economic growth. He has published over two hundred articles and chapters and thirty books in areas such as regional trading arrangements, non-tariff barriers, European integration, transition economies' trade, international labour migration, agricultural protection, trade and poverty, and the world trading system. He has also published on small economies, global warming, pricing behavior and econometrics. His current programme includes work on migration, trade and poverty, growth and China and the World Trading System.
Iacovone, Leonardo, Rauch, Ferdinand and Winters, L Alan (2013) Trade as an engine of creative destruction: Mexican experience with Chinese competition. Journal of International Economics, 89 (2). pp. 379-392. ISSN 0022-1996
Loke, Wai Heng and Winters, L.Alan (2012) Why Is Open Regionalism Not Always Good? Journal of Economic Integration, 27 (3). pp. 437-465. ISSN 1225-651X
Walmsley, Terrie L, Winters, Alan and Ahmed, Amer (2011) The impact of the movement of labour: results from a model of bilateral migration flows. Global Economy Journal, 11 (4). ISSN 1524-5861
Overman, Henry G and Winters, L Alan (2011) Trade and Economic Geography: The Impact of EEC Accession on the UK. Manchester School, 79 (5). pp. 994-1017. ISSN 1463-6786
Winters, L Alan, Lim, Wonhyuk, Hanmer, Lucia and Augustin, Sidney (2010) Economic growth in low income countries: what G20 can do to help raise and sustain it? In: Towards the Consolidation of the G20: From Crisis Committee to Global Steering Committee. Korean Development Institute and Brookings, pp. 288-295.
Green, Tim and Winters, L. Alan (2010) Economic crises and migration: Learning from the past and the present. World Economy, 33 (9). pp. 1053-1072. ISSN 0378-5920
Hertel, Thomas W, Keeney, Roman, Ivanic, Maros and Winters, L. Alan (2009) Why Isn't the Doha Development Agenda More Poverty Friendly? Review Of Development Economics, 13 (4). pp. 543-559. ISSN 1467-9361
Anderson, Kym and Winters, L Alan (2009) Challenge of Reducing International Trade and Migration Barriers. In: Global Crises, Global Solutions, (Copenhagen Consensus 2008). Cambridge University Press, pp. 451-503.
Hoekman, Bernard and Winters, L. Alan (2009) Multilateralizing preferential trade agreements: a developing country perspective. In: Multilateralizing Regionalism: Challenges for the Global trading System,. Cambridge University Press,, pp636-680.
Winters, L Alan, Gasiorek, Michael, López González, Javier, Holmes, Peter, Méndez Parra, Maximiliano, Rollo, Jim and Shingal, Anirudh (2009) Innocent bystanders: implications of an EU-India free trade agreement for excluded countries. Commonwealth Secretariat. ISBN 9780850928952
Winters, L. Alan (2009) Making the economic partnership agreements more poverty friendly. Journal of International Trade and Diplomacy, 2 (2). pp. 1-26.
Winters, L. Alan (2009) North-South Trade. In: The Princeton Encyclopedia of the World Economy. Princeton University Press, Princeton, pp. 855-859. ISBN 9780691128122
Winters, L. Alan (2009) Skilled Labor Mobility in Post-War Europe. In: Skilled Immigration Today. Oxford University Press, New York., pp. 53-80.
McKenzie, David, Pilar Garcia, Martinez and Winters, L. Alan (2008) Who is coming from Vanuatu to New Zealand under the new Recognised Seasonal Employer (RSE) program? Pacific Economic Bulletin, 23 (3). pp. 205-228. ISSN 0817-8038
Commander, Simon, Chanda, Rupa, Kangasniemi, Mari and Winters, L Alan (2008) The Consequences of globalisation: India's software industry and cross border labour mobility. World Economy, 31 (2). pp. 187-211. ISSN 0378-5920
Venables, Anthonty J, Winters, L Alan and Yueh, Linda (2008) Economic Integration in Asia: European Perspectives. In: Economic Intergration in East Asia: Perspectives from Neo-Classical and Spatial Economics. Edward Elgar Publishing Ltd, pp. 143-172. ISBN 9781847209122
Winters, L Alan, ed. (2007) The WTO and poverty and inequality. Critical perspectives on the global trading system and the WTO, 1 & 2 . Edward Elgar, Cheltenham. ISBN 9781843763055
Winters, L. Alan (2005) The European agricultural trade policies and poverty. European Review of Agricultural Economics, 32 (3). pp. 319-346. ISSN 0165-1587
Winters, L. Alan (2004) Trade Liberalisation and Economic Performance: An Overview. Economic Journal, 114 (493). F4-F21. ISSN 0013-0133
Cooke, John, Evans, Phil, Findlay, Lucy, Gray, Kevin, Jensen, Olivia, de Jonquières, Guy, Mardsen, Phillip, Orozco, Claudia, Paemen, Higo, Page, Sheila, Roberts, Christopher, Ruttley, Philippe, Razeen, Sally and Winters, L.Alan (2003) Expanding WTO Rules? Should there be WTO rules on competition, investment, trade facilitation and transparency in government procurement? A Federal Trust Report on the Singapore Issues. Technical Report. Federal Trust for education and research, London.
Bourguignon, Francois, Coyle, Diane, Fernàndez, Raquel, Giavazzi, Francesco, Marin, Dalia, O'Rourke, Kevin, Portes, Richard, Seabright, Paul, Venables, Anthony, Verdier, Thierry and Winters, L Alan (2002) Making Sense of Globalization: A Guide to the Economic Issues. Centre for Economic Policy Research. ISBN 1-898128-67-7
Davies, S, Gasiorek, Michael, Davidson, R, Lyons, B, Ulph, D, Vaughan, R and Winters, Alan (2002) The impact of a single currency in Europe on product markets: theory and evidence. In: European Integration and the Functioning of Product Markets. Commission of European Communities/Edward Elgar Publishers, pp. 33-102. ISBN 9781843763932
Winters, L. Alan (1999) Summing Up II. In: International Trade Policy and the Pacific Rim. MacMillan for International Economics Association, pp. 400-405. ISBN 9780312218010
Winters, L. Alan (1998) Assessing Regional Integration Arrangements. In: Trade: Towards Open Regionalism. World Bank Latin American and Caribbean studies . The World Bank, Washington D.C., pp. 51-68.
Winters, L. Alan (1997) Lebanon's Euro-Mediterranean Agreement: Possible Dynamic Benefits. In: Pathways to Integration. Lebanese Centre for Policy Studies, pp. 33-54. ISBN 9781886604117
Winters, L. Alan (1996) The Uruguay Round: A Milestone for Developing Countries. In: The Uruguay Round and the Developing Countries. Cambridge University Press, pp. 1-29. ISBN 9780521586016
Kaminski, Bartlomiej, Wang, Zhen Kun, Winters, L Alan, Sapir, André and Székely, Székely P (1996) Export Performance in Transition Economies. Economic Policy, 11 (23). pp. 421-442. ISSN 0266-4658
Winters, L. Alan (1995) The Liberalisation of European Steel Trade. In: European Union Trade with Eastern Europe: Adjustment and Opportunities. Centre for Economic Policy Research, pp. 201-235. ISBN 9781898128175
Winters, L Alan, ed. (1995) Mitsui lectures in economics. Mitsui lectures in economics . Basil Blackwell, Oxford.
Winters, L. Alan (1993) The Political Economy of Industrial Countries' Agricultural Policies. In: Current Issues in Agricultural Economics. Current Issues in Economics . Palgrave MacMillan, United Kingdom, pp. 11-31. ISBN 9780312090913
Winters, L. Alan (1990) Digging for Victory: Agricultural Policy and National Security. World Economy, 13 (2). pp. 170-191. ISSN 0378-5920
Baldwin, RE and Winters, L. Alan (1989) Weltwirtschaftliches Archiv. Springer, pp. 441-662.
Winters, L. Alan (1988) "Comment" (on Smith and Kierzkowski). In: Issues in US EC Trade Relations. Chicago University Press, for the National Bureau of Economic Research. ISBN 9780226036083
Winters, L. Alan (1987) An Empirical Intertemporal Model of Developing Countries' Imports. Weltwirtschaftliches Archiv, 123 (1). pp. 58-80. ISSN 0043-2636
Loke, Wai-Heng and Winters, L Alan Why open regionalism is not always good. Journal of Economic Integration. (In Press)
Wednesday 09:00-10:00 (If you can't come at this time or it is urgent, send me an email to fix an alternative)