Sussex ranked first in the world for Development Studies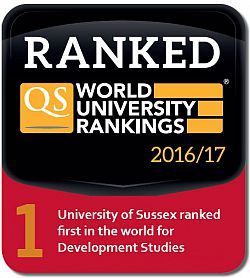 Released by the QS World University Rankings and based on academic and employer reputation surveys and research impacts, the rankings aim to help prospective students identify the world's leading schools in their chosen field.
Find out more about the rankings:
Helena Normanton International Postdoctoral Fellowships in International Development
We are seeking promising independent researchers to apply for this 2 year, fully funded, research position.
Closing date for application 7th April 2017
Further details: Helena Normanton Research Fellow (International Development)
Contact us

Undergraduate Programme Coordinators

Hannah Leigh and Emilia Roycroft
Arts C168
T (01273) 873520 or (01273) 678027
E intdevoffice@sussex.ac.uk

MA Programme Coordinators

Daniella Kiernan and Clare Rogers
Arts C167
T (01273) 877686 or (01273) 678722
E globalstudiespg@sussex.ac.uk

Address

International Development,
School of Global Studies,
University of Sussex,
Falmer, Brighton,
BN1 9SJ

For contact details of members of the department refer to the International Development faculty page.
International Development events

International Development news