Sussex ranked first in the world for Development Studies 2020
The University of Sussex has been ranked as best in the world for development studies for the fourth year running, in the 2020 QS World University Rankings by Subject.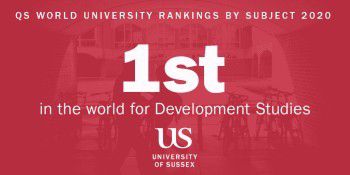 The rankings reflect the quality, impact and range of international development research and courses offered by the University's School of Global Studies, the University of Sussex Business School, Sussex Sustainability Research Programme (SSRP), School of Media, Film and Music, Centre for International Education (CIE), and the University's partner the Institute of Development Studies (IDS).
Sussex has now been number one for development studies for five out of the past six years.
Head of the School of Global Studies, Elizabeth Harrison, said: "It's fantastic that the excellent work in development studies carried out at Sussex and IDS has once again been recognised. Our concern for global inequalities and social justice is reflected in our wide range of undergraduate and postgraduate courses and in our world-class and engaged research."
Read more: Four years at the top: University of Sussex named best in the world for development studies for fourth year running
Global Studies - responding to the COVID-19 pandemic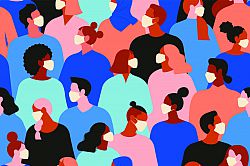 Academics across the School of Global Studies are drawing on their wide-ranging research expertise to react and inform during the current Coronavirus outbreak.
From providing specialist insight on health policy to writing pieces for the UK and international media on migrant key workers, and debating the impact the virus might have on Brexit, our School's research in Anthropology, International Relations, International Development and Geography can bring understanding, challenge and perspective to the crisis.

Contact us

Undergraduate Programme Coordinator

Ellie Margott
Arts C168
T (01273) 873520 or (01273) 678027
E intdevoffice@sussex.ac.uk

MA Programme Coordinators

Daniella Kiernan and Clare Rogers
Arts C167
T (01273) 877686 or (01273) 678722
E globalstudiespg@sussex.ac.uk

Address

International Development,
School of Global Studies,
University of Sussex,
Falmer, Brighton,
BN1 9SJ

For contact details of members of the department refer to the International Development faculty page.
International Development events

No items are currently available.

View all events

International Development news