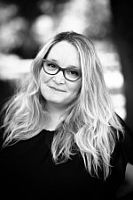 Ms
Mary Krell
Biography
Mary has worked widely in theatre and as a digital artist (creating interactive media for the web, CD-ROM and installations) in the UK and internationally for over fifteen years. She has also been an associate member of Forced Entertainment as a digital author and, with them, created a number of interactive works that have been exhibited around the world at venues including the ZKM (in Karlsruhe, Germany), the ICA (in London) and The Art Institute of Chicago. Nightwalks, an interactive virtual reality piece created in collaboration with the company won the Transmediale in 2000.
Role
Mary is the a Senior Lecturer in Digital Media Practice and Theory. She has also, during the past decade, convened the BA Media Practice & Theory and the Digital Media MA in the Department of Media & Film.
Community and Business
Mary has worked with artists and industry around the UK and in Seattle, USA. She is a trustee at Fabrica Gallery and is specifically interested in community engagement around digital media in arts and education.
CURRENT RESEARCH
Mary is currently working with community groups and arts organisations in the Yorkshire area looking at the traces of industrial and creative communities that survive to become archives of our lived experience. This work includes rephotographic encounters and a range of workshops.
RESEARCH TRAJECTORY
Mary has long been interested in narrative, performance & mediated art. She is interested in the intersection of performance and digital media and is using her work with Forced Entertainment and the Lee Miller Archives as a point of departure.
In the past few years, Mary has completed a number of research projects including: TRACES of LEE MILLER: ECHOES FROM ST MALO, IMPOSSIBLE GEOGRAPHIES (with Petra Gemeinboeck), THE SOMNAMBULIST (a generative film experiment) and INVESTIGATING IMAGINARY EVIDENCE (a digital project interrogating issues of creative authorship within interactive media). Information about these (and other past projects) can be obtained via email.
EARLY WORK
Mary trained as a director and, as a result, her work is located in a space shared by performance, interactive media, ephemera and story-telling. After a period spent working with Richard Shechner, Forced Entertainment and others in the worlds of experimental theatre, she spent five years focussing on the creation of photo-real narratives and virtual spaces defined by story fragments. Most of that work was created using photographic virtual spaces (constructed with QuickTime VR technology) to examine moments removed from filmic narratives that have been frozen in time.
Mary regularly teaches on undergraduate and postgraduate modules in the the Media & Film subject areas within the School of Media, Film and Music.
She wrote and teaches the MA module NEW MOVING SCREENS and has written the ANIMATION module at the undergraduate level. She also regularly advises students working with DIGITAL MEDIA and ANIMATION in the final year of the BA Media Practice as they develop work for their Degree Show.
A selection of other courses taught by Mary follows.
+ MA Mobile & Locative Practice & Theory Option
+ Convenor of Introduction to Media Studies
+ Convenor for Theories of Media Practice
+ Convenor of Directing for Stage & Film options
+ Convenor of Scriptwriting courses across the levels of the degree.
+ Teacher of Practice-Seminars on Theory & Practice of Interactive Media AND Political Economoy of the New Communications Media (TPIM and PENCM) core-courses for the MA Digital Media degree
In addition to the items listed above, Mary has also taught on the Project Development module, taught and lectured on the Analysing Media Texts module, and has convened practice elements of these and other modules. She has also supervised independent and group production projects at the undergraduate and postgraduate levels.
Tuesday 16:00-17:00 (BOOKABLE office hour (must book appt at least 1 day in advance))
Wednesday 11:00-12:00 (Drop-in OFFICE HOUR)