2017
SNAP: PIONEERS OF AMERICAN QUEER CINEMA (Autumn 2017)
For Autumn 2017, The Centre for Study of Sexual Dissidence is thrilled to work in collaboration with Eyes Wide Open Cinema and the Centre for American Studies to bring you a season of queer films: Snap: American Queer Cinema Pioneers. All screenings will all be held at Fabrica in Central Brighton.
Each screening will be followed by a "provocation" or discussion about the film and related questions.
Venue Accessibility Information: https://www.fabrica.org.uk/accessibility
Each screening will be closed captioned (subtitled) and the intros will be interpreted into BSL.
SCHEDULE
Wednesday, 27 September 2017 @ 7:30pm: Desert Hearts (18)
In 1950s Nevada, dissatisfied professor Vivian arrives in Reno to obtain a quick divorce from her husband. On the ranch where she is staying, she meets Cay, the daughter of ranch owner, a bohemian self-assured lesbian who works in the local casino and makes art on the side. As the two women grow closer, Vivan becomes anxious of her emerging feelings towards Cay and, against the backdrop of rocky landscapes and desert planes, the two begin to come to terms with their emergent desires.
£6/£5 TICKETS
​
Thursday, 19 October 2017 @ 7:30pm: Tongues Untied
Marlon Riggs's landmark essay film Tongues Untied is a bold vindication of black gay men in 1980s America. This semi-documentary explores the perspectives at the intersection of black gay life as its subjects confront racism,homophobia and social marginalisation. Mixing autobiography with music, performance and poetry (by Essex Hemphill and others), Riggs forged new artistic ground in the articulation of identity, culture and self-expression. Praised by black queer audiences for its authentic representation of style, and culture, as well its fierce response to oppression, Tongues Untied remains as powerful today as ever.
£6/£5 TICKETS
​
Thursday, 16 November 2017 @ 7:30pm: The Early Shorts of Cheryl Dunye
Cheryl Dunye is one of the most distinct voices in American queer cinema history, bursting onto the scene with her wryly funny social critiques of friendship and dating in interracial lesbian communities. Most well known for her 1996 feature The Watermelon Woman, Dunye's short films are criminally unknown but should be appreciated as humorous gems that exemplify the innovations of her signature "Dunyementary" style.
£6/£5 TICKETS
Thursday, 7 December 2017 @ 7:30pm: Hustler White (18)
Hustler White follows lovelorn anthropologist Jürgen (Bruce LaBruce) as he heads to Los Angeles to research hustlers as a phenomenon. After Jürgen spots angel-faced trick Montgomery (bisexual supermodel Tony Ward), he falls hopelessly in love. The film introduces a bizarre array of LAs most eccentric residents, including a born again country singer, a razor blade masochist, a mortician-cum-dominatrix and an amputee fetishist, and with cameos by Ron Athey and Vaginal Davis. Inspired by Billy Wilders classic Sunset Boulevard but subverted with quintessential LaBrucian style, Hustler White is a roller coaster ride of sex, money, depravity and a little bit of romance.
£6/£5 TICKETS
SPRING 2017: Sex Diss Film Club is delighted to be co-sponsoring Dreamland Cinema & Eyes Wide Open's 'Queer Dreams' season at Fabrica
Download Programme: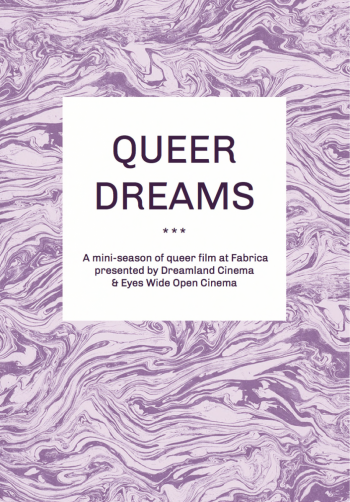 My Own Private Idaho (1991)
dir. Gus Van Sant [102 mins]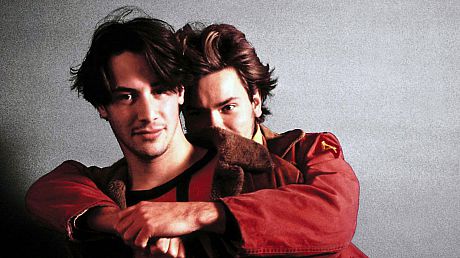 Sat 11 Feb, Doors 7.30pm, Film 8pm
Fabrica, 40 Duke Street, Brighton, BN1 1AG
Mike (River Phoenix) and Scott (Keanu Reeves) are two sex workers hustling around the US to make ends meet. When Mike goes in search of his long lost family, the two find themselves on a precarious journey of discovery and change. One of the earliest films in the trend now referred to as New Queer Cinema, and one of the most well-known representations of male sex work and male bisexuality, this is a remarkable feature in queer cinematic history, as well as being a gritty, sexy, and stylish road movie.
Orlando (1992)
dir. Sally Potter [93 mins]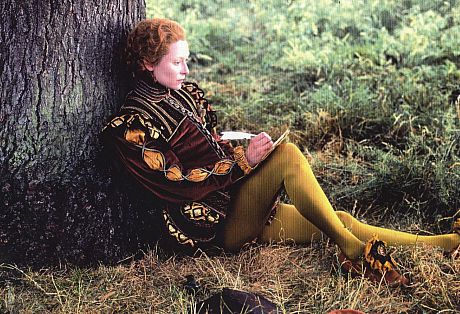 Wed 5 March, Doors 7.30pm, Film 8pm
Fabrica, 40 Duke Street, Brighton, BN1 1AG
Across four centuries, one figure strides, androgynous, beautiful, shapeshifting: Orlando. Sally Potter's seminal adaptation sees Tilda Swinton take on the eponymous role created by Virginia Woolf. Swinton plays a young noble who is instructed by Queen Elizabeth I (Quentin Crisp) to stay forever young. When, magically, the queen's wishes are realised, Orlando embarks on a variegated life that spans across centuries and sees the character inhabit both male and female genders. An angel (played by gay pop icon Jimmy Somerville) serenades us as we sink into the pageantry of this singular classic of British cinema, watching as Swinton effortlessly spans time, physicality and desire.
Ali: Fear Eats the Soul (1974)
dir. Rainer Werner Fassbinder [93 mins]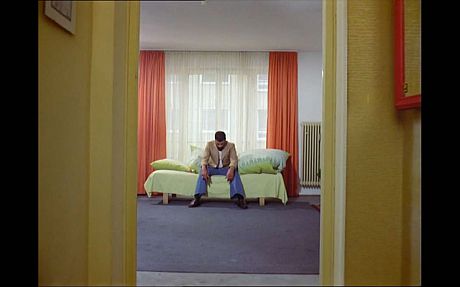 Fri 21 April, Doors 7.30pm, Film 8pm
Fabrica, 40 Duke Street, Brighton, BN1 1AG
The rain is unrelenting and the middle-aged woman needs shelter, so she steps in to a
bar playing Arabic music. A handsome young Moroccan man asks her to dance, and from this unexpected proposition, an electric connection is sparked. Evoking the work of queer auteur Douglas Sirk in both its aesthetic and its astute social commentary, Fassbinder explores love and desire across the boundaries of age and race. Ali being played by the director's own romantic partner El Hedi ben Salem imbues this masterpiece film with further queer significance.
--------------------------------------------------------------------------------------------------------------------
2016

Like Cattle Towards Glow (2015)
Tue 4 Oct, 6,30pm
Duke of York's Picturehouse, Preston Road, Brighton, BN1 4NA
[94 mins], dir. Dennis Cooper, Zac Farley
Presented in association with the University of Sussex's Centre For American Studies and Eyes Wide Open Cinema.
This beguiling new film from acclaimed author Dennis Cooper and Zac Farley consists of five independent, thematically and emotionally interconnected scenes – a complex, intimate, strangely serene, wide-ranging and always challenging exploration of sexual desire as a hiding place. In these unique, stylistically and temperamentally diverse scenes, sex makes a promise of something so intense and untenable to the characters that they feel they must enter it in secret. Like these characters, and like sex itself, Like Cattle Towards Glow is as deep, knowing and unknowable as it is raucous, original and explicit on the surface.
The film will be followed by a Q&A with Dennis Cooper and Zac Farley, interviewed by Sex Diss MA graduates Dr. Diarmuid Hester and Eyes Wide Open programmer Jacob Engelberg.

The Innocents (1961)
Tue 15 March, Arts B274, 6pm-8.30pm
[100 mins], dir. Jack Clayton
Introduced by Dominic Dean (University of Warwick)
Based on Henry James's The Turn of the Screw, this psychological thriller follows a governess (Deborah Kerr) who fears the house she works in is haunted and the children in her care are possessed. With an award-winning script by William Archibald and Truman Capote, the film is noted for its pioneering use of synthesised sound and controversial ending.
Calamity Jane (1953)
Tue 19 April, Arts B274, 6pm-8.30pm
[97 mins], dir. David Butler
Introduced by Rachel O'Connell (School of English)
Loosely based on the real life of the eponymous Wild West heroine, this musical follows the romance between Calamity (Doris Day) and Wild Bill Hickok (Howard Keel). Cases of mistaken identity, gender confusion and same-sex cohabitation make this one of the quintessential coded queer films of its time, with Doris Day's rendition of 'Secret Love' proving one of the defining caberet numbers of its generation.