Skoonheid [Beauty] (2011)
[99 mins], dir. Oliver Hermanus
Tue 29 September, Room Arts B324, 6pm-8.30pm
Introduced by Matthew Beetar (School of Media, Film and Music)
Awarded the Queer Palm Award at the 2011 Cannes Film Festival, this harrowing film charts the rising obsession of South African François (Deon Lotz) as he covertly pursues handsome Christian (Charlie Keegan). The film explores the complexity of François's attraction to men alongside his role as an openly racist and homophobic married man. His descent into obsession with Christian and the film's shocking violence make it a powerful and harrowing portrayal of lust and desire at the intersection of whiteness and masculinity in post-apartheid South Africa
Beautiful Thing (1996)
[85 mins], dir. Hettie Macdonald
Tue 24 November, Room Arts B274, 6pm-8.30pm
Introduced by Michael Rowland (School of English)
A landmark gay film when it was first released, and based on the play by Jonathan Harvey, Beautiful Thing charts the blossoming romance between teenage boys Jamie (Glen Berry) and Ste (Scott Neal) on London's Thamesmead estate. Jamie and Ste's relationship and coming out is only part of this examination of working-class life in London and the difficulties faced by teenagers both gay and straight. Standout performances from Jamie's mother, Sandra (Linda Henry) and their quirky neighbour Leah (Tameka Empson), plus a Mama Cass soundtrack, give the film a positivity rarely seen in contemporary gay films of the time.

Outlaw (1994)
Tue 26 May, Silverstone 121, 4pm-6.30pm
[26 mins], dir. Alisa Lebow
Introduced by Dr. Alisa Lebow (School of Media, Film and Music)
Leslie Feinberg, a self-identified "gender outlaw" who has spent much of zir life passing as a man, speaks with passion and intelligence about zir experiences in this video manifesto. Raw and confrontational, this film asks its audience to examine their assumptions about the "nature" of gender and calls for more sensitivity and awareness of the human rights and the dignity of transgendered people.
This film screening will form part of a discussion of Feinberg's life and work, including the first chapter from Stone Butch Blues (1993) and an article from Worker's World (2013).
The Fox (1967)
Tue 2 June, Silverstone 309, 4pm-6.30pm
[110 mins], dir. Mark Rydell
Introduced by Dr. Michael Lawrence (School of Media, Film and Music)
For the fiercely independent March and her partner Banford, the isolated farm provides a hardscrabble haven: while Banford bakes the muffins, March mends the fences. The winter is hard, and the women are happy. But if their living is threatened by the nightly visits of the local fox - who is after their chickens - their lives will be transformed by the sudden arrival of Paul, the old farmer's grandson - for he is after a wife. Repressions thaw as the icicles melt beneath the winter sun. Desires make their demands, with tragic consequences. Based on the novella by D. H. Lawrence, The Fox broke new ground in 1967 with its depiction of nudity, masturbation and lesbianism. Today, the film deserves reappraisal for its ambiguous exploration of sexuality and sacrifice.

Let The Right One In (2008)
Tue 10 Feb, Arts B247, 6pm-8.30pm
[114 mins], dir. Tomas Alfredson
Introduced by Dr. Bethan Stevens (School of English)
In this internationally acclaimed film Oskar, a bullied 12 year old boy living in 1980s Sweden, befriends Eli, a vampire girl who moves in next door. A film that examines teenage outsiderness, "queer" love and effectively critiques the horror/vampire genres. Alfredson's sensitive direction, the evocative score and austerely beautiful frozen setting makes it a standout of the vampire movie genre, but also produces a deeper examination of love, desire and normativity.
Dirty Diaries (2009)
Tue 24 March, Arts B247, 6pm-8.30pm
[101 mins], prod. Mia Engberg
Introduced by Beatrice Châteauvert-Gagnon (School of Global Studies)
'Orgasms and art in films for the open mind'
A collection of thirteen short films of feminist pornography featuring the work of Swedish directors, activists and artists and produced by Mia Engberg. Featuring a great diversity of content, the collection aims at exploring different perspectives on sexuality based on a common manifesto of general feminist ideals. From queer sex to humour to power-reversal fantasies, Dirty Diaries provides a glimpse into the alternative sexual universe of feminist porn.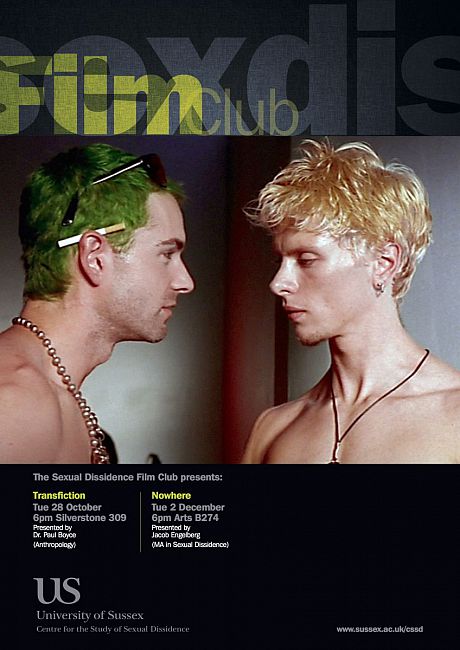 Transfiction (2007)
Tuesday 28th October
Silverstone 309, 6pm-8.30pm
[57 min.], dir. Johannes Sjöberg
Introduced by Dr. Paul Boyce (Department of Anthropology)
Focusing on the lives of transgendered Brazilians in São Paolo, Transfiction is an ethnofiction, an experimental ethnographic film genre. The participants in the film act out their own and others' lives, affording them the opportunity to comment, perform and improvise a shared anthropology. In this collaborative filming process, cultural knowledge is acted-out with the camera as much as for it, providing a reflexivity to the work and a blurring of the traditional subject/object binaries of traditional anthropological cinema.
Nowhere (1997)
Tuesday 2nd December
Arts B274, 6pm-8.30pm
[85 min.], dir. Gregg Araki
Introduced by Jacob Engelberg (MA in Sexual Dissidence)
Described as '90210 on acid', the film tells the story of a day in the lives of a group of Los Angeles high school students. Dark Smith (James Duval) is struggling with his fluctuating romantic status with his bisexual, polyamorous girlfriend Mel (Rachel True) and conflicted feelings for his gay classmate Montgomery (Nathan Bexton). Noted for its 'party scene', the film includes performances from Heather Graham, Ryan Phillippe, Mena Suvari, Denise Richards, Christina Applegate, Rose McGowan, John Ritter, Traci Lords and Chiara Mastroianni.

Flaming Creatures (1963) [43 mins], dir. Jack Smith
Wed 22nd January, Arts B274, 5.30pm-8pm
Introduced by Matthew Motyka (MA in Sexual Dissidence)
Featuring an array of transvestites, hermaphrodites, a sexually ambiguous vampire, a drug orgy and cunnilingual rape this still remains a benchmark of queer underground cinema.
Night Scene (2004) [75 mins], dir. Cui Zi'en (Chinese with English subtitles)
Tue 4th February, Jubilee 144, 6pm-8.30pm
Introduced by Dr. Hongwei Bao (Lecturer in Media Studies, University of Nottingham)
Docudrama made by China's leading queer filmmaker, dealing with male same-sex sex workers. The film offers insight into the lives of sexual minorities and underground/inde- pendent queer filmmaking in China. See Queory on 5th Feb.
XXY (2007) [91 mins], dir. Lucía Puenzo (Spanish with English subtitles)
Wed 26th February, Arts B274, 5.30pm-8pm
Introduced by Dr. Samuel Solomon (School of English)
Telling the story of Alex Kraken, a 15-year old intersex person living as a girl, the film charts her experiences and her family's reactions to her gender identity.
if.... (1968) [111 mins], dir. Lindsay Anderson
Wed 9th April, Arts B274, 5.30pm-8pm
Introduced by Dr. Rachel O'Connell & Thomas Houlton (School of English)
This satire on the English public school system depicts the savage insurrection of the students against the establishment. A classic of the '60s counterculture movement.

Paris Is Burning (1991) [78 mins], dir. Jennie Livingston
Wed 2nd October, B274, 5.30pm-8pm
Introduced by Dr. Rachel O'Connell (School of English) Iconic documentary examining the underground drag 'Balls' held in New York City. Notable for its documentation of 'voguing', the film won several awards, and features interviews with scene figures such as Pepper LaBeija, Angie Xtravaganza, and Willi Ninja.
Hysteria (2011) [95 mins], dir. Tanya Wexier
Wed 30th October, B274, 6pm-8.30pm
Introduced by Rachel Wood (School of Media, Film & Music) Hugh Dancy & Maggie Gyllenhaal star in this period film which looks at how the medical treatment of female hysteria in the Victorian era led to the invention of the vibrator.
Mädchen in Uniform (1931) [98 mins], dir. Leontine Sagan
Wed 27th November, B274, 5.30pm-8pm
Introduced by Dr. Francesco Ventrella (Dept. of Art History) Groundbreaking for its sympathetic portrayal of lesbianism, the plot revolves around the love of a fourteen-year old schoolgirl for her teacher. A cult classic.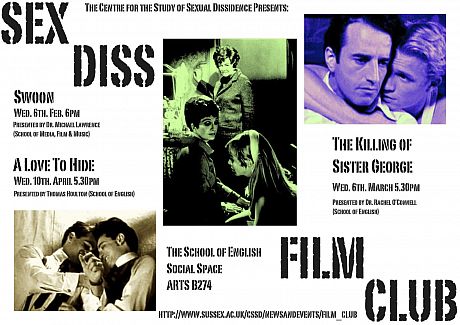 Wednesday 10th April 5.30pm-8pm Arts B274:
Thomas Houlton (School of English) presents Christian Faure's A Love To Hide (Un amour à taire) (2005) [102 mins]
In Nazi-occupied Paris, 1942, a young Jewish girl Sara goes into hiding with her school friend Jean. Jean, trying to keep his family's business afloat, is also hiding his relationship with Philippe, who has dangerous connections with forgery artists. The pressures on the trio rapidaly escalate until they become confronted with the full consequences of betrayal, their lives spinning out of their hands. This is one of the finest recent portrayals of the paranoia and violence at the heart of the Nazi occupation, as well as a bleak exploration of the horrors of the camps and the persecutions suffered by homosexual and Jewish prisoners alike. Jeremy Renier gives a brilliant central performance as Jean.
Wednesday 6th March 5.30pm-8pm Arts B274:
Dr. Rachel O'Connell (School of English) presents Robert Aldrich's The Killing of Sister George (1968) [138 mins]
Based on the comic play by Frank Marcus, this was one of the most controversial X-Rated films of the 1960s, which many British councils banned outright from distribution. "Sister George" is a beloved character in a popular TV series, played by June Buckridge, who in real life is the antithesis of the sweet character she plays. When Buckridge discovers that "Sister George" is to be killed off, she becomes increasingly impossible to live and work with. Mercy Croft, an executive at the radio station, intercedes in George's professional and personal life, supposedly to help, but she actually has an agenda of her own. This is a chance to see this rarely screened classic of 1960s cinema. Actresses Coral Browne and Susannah York provide great support to Beryl Reid's Golden Globe nominated performance as Sister George.
Wednesday 6th February:
Dr. Michael Lawrence (School of Media, Film & Music) presents Tom Kalin's Swoon (1992) [80 mins]
Considered part of the New Queer Cinema movement, Swoon explores the true story of gay lovers, Richard Loeb and Nathan Leopold Jr. who kidnapped and murdered a boy in the early 1920s to undertake a "perfect crime". The plot covers the months before the murder, the investigation, trial and final fate of the two men. This work forms the last of a trio of films that have been directly influenced by the Loeb-Leopold murder and trials, starting with Alfred Hitchcock's Rope (1948) and Richard Fleischer's Compulsion (1959).