NEWS:
CROMT Research Fellow Tim Hopkins will be directing and performing works by Mauricio Kagel, and creating his own Kagel-inspired piece with University of Sussex students, in the London Sinfonietta's "Music as Theatre" event at Kings Place on Saturday February 1.
https://londonsinfonietta.org.uk/whats-on/turning-points-kagel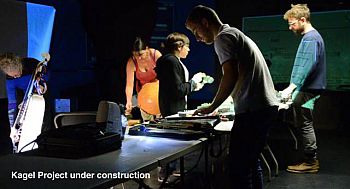 -----------------------------------------------------------------------
CROMT Director Nick Till and Evelyn Ficarra recently returned from Utrecht where they attended the Performing Robotics Conference: Dialogues on Theatre and Robotics. Evelyn delivered a paper "Robot Opera: Performance, Embodiment, Vocality" reporting on CROMT's on-going Robot Opera Project. (May, 2019)
Tim Hopkins attended NOW 2019 - New Opera Workshop, Brisbane. Hosted by Opera Queensland and Queensland Conservatorium, he gave a paper on Opera and Technology and worked with performance students on media theatre techniques in their opera and music theatre practice (April, 2019)
Nick Till represented CROMT in his keynote address at the annual symposium of The Finnish Musicological Society at the Sibelius Academy in Helsinki, (March 2019).