Free event: Wednesday 9th April 2014, Jubilee Building Room G22, 16.00-17.30pm
In this informal paper Joe Moran will discuss the process of writing his latest book, Armchair Nation: An Intimate History of Britain in Front of the TV (Profile 2013). Chair: David Hendy, Respondent: Margaretta Jolly.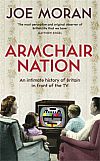 In particular he will focus on the problems and opportunities presented by writing a book aimed partly at non-academic audiences, and he will relate his history of watching television to the field of media history and his own more general research on histories of the everyday. He will end with a short reading from the book.

Joe Moran is Professor of English and Cultural History at Liverpool John Moores University. His other books include Reading the Everyday, Queuing for Beginners and On Roads: A Hidden History. His latest project is a cultural history of shyness.
Free, no need to book, disabled access.
This seminar and is being organised in conjunction with the Public Culture Research Hub at the School of of Media, Film and Music.