University of Sussex
Date: Tuesday 24 March 2015
Time: 5 - 6 p.m., followed by drinks and nibbles
Place: Arts A, Language Centre, Room 4

This is a free event. No need to book. All welcome.
This event will explore a number of questions dealing with family history and childhood memories in the context of twentieth century Germany.
On the occasion of the 70th anniversary of the bombing of Dresden in February 1945, the liberation of Auschwitz in January 1945, and in the wake of the British Museum's hugely successful exhibition Germany - Memories of a Nation, which focussed on 'memories' rather than 'narratives' precisely to capture the troubled and conflictual nature of German history, this event will feature three Germans of non-Jewish background and of different ages discussing their memories of growing up in post-war Germany and what being German means to them. In doing so, our intention is not to ignore or suppress the vital significance of German-Jewish memory but rather to foreground the question of responsibility and difficulty that those of non-Jewish descent carry with them, as inheritors and makers of Germany today.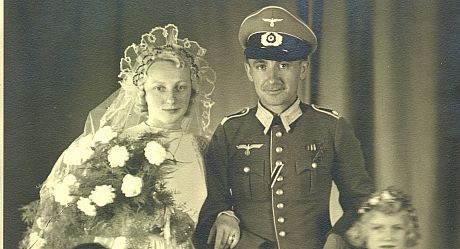 We will address a number of questions, for example: How do different generations of non-Jewish Germans deal with Germany's recent history? What effect do the events of the twentieth century have on attitudes to family history, memoir writing and identification with a nation's history? How does one – indeed how should one – remember family members who were involved with the Nazis? How does one conduct ancestral research in the shadow of historical fascism? And what does it feel like to have grown up in a divided and then reunited country?
Chaired by Dr Andrea Hammel, University of Aberystwyth
Dr Andrea Hammel is a Reader at Aberystwyth University, as well as a Committee Member of the Research Centre for German and Austrian Exile Studies, IGRS, University of London; member of the Editorial Board of the Yearbook of the Centre for German and Austrian Exile Studies (Rodopi); Co-director of the AHRC Network 'Holocaust Writing and Translation'. She is currently working on a monograph about the Kindertransport.
Panellists:
Sybil Oldfield, Research Reader in English, University of Sussex
Sybil Oldfield was born in 1938 and is an Emeritus Reader in English and Women's History at Sussex University. She has written on 'German Women Against Hitler, 1928-1945', on 'Germany's Antigone, Sophie Scholl' and on 'Communism's Cassandra, Christa Wolf'. She is currently researching 'The Britons - and German Jews - in Hitler's Black Book,G.B. 1940'.
Dr Alexandra Loske, Art Historian, University of Sussex
Dr Alexandra Loske was born in 1969 in West Germany but spent many holidays in Dresden (East Germany), where her father was born. After Germany's reunification she moved to Berlin, where she read English and German linguistics at Humboldt University. She came to England in 1996 and has been working at the University of Sussex since 1999. She recently completed her PhD in Art History and teaches at the Department of Art History. She still holds a German passport but considers herself European rather than German.
Alexandra Fliege, Art Historian, London.
Alexandra Fliege was born in Southern Germany in 1987 and moved to England in 2010. She read Art History at Sussex University (BA) and the Courtauld Institute (MA), and blames her German roots for her interest in Northern Renaissance art. She recently started work as as a researcher for the London-based Commission for Looted Art in Europe, a non-profit organisation dedicated to restituting Nazi-looted works of art to their rightful owners.