30 September 2014, Jubilee 144
4pm
University of Sussex
Falmer, Brighton, BN1 9RH
'With God Against Man' is a new documentary film by Russian-American filmmaker Semyon Pinkhasov. Tracing the footsteps of the refugees of 1940, the film follows a group of families who received visas from Aristides de Sousa Mendes – Portuguese consul in Bordeaux in June 1940 – on a June 2013 remembrance "journey on the road to freedom" from Paris to Lisbon. This documentary includes a lot of fresh archival footage of June 1940 and raises important questions about how, beyond public commemoration, the events of June 1940 remain for many an integral part of an intensely experienced private family memory.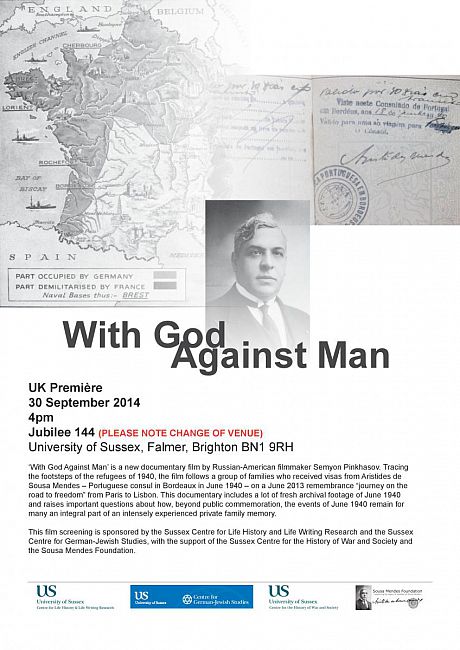 This film screening is sponsored by the Sussex Centre for Life History and Life Writing Research with the support of the Centre for the History of War and Society and the Sousa Mendes Foundation.

This is a free event.

For more information, please contact:
Angela Campos
a.d.c.ferreira-campos@sussex.ac.uk