Mary Philadelphia Merrifield [née Watkins] (b. London 1804, d. Cambridge 1889) was a remarkable, self-taught woman who spent most of her life in Brighton. She wrote about colour, dress history, marine algae and was actively involved in the shaping of the natural history collections at Brighton Museum in the later 19th century. She left a significant mark on color research and literature, and was one of only a few women working in this field in the 19th century.
She is best known for the first English translation of 15th century painter Cennino Cennini's Il libro dell'arte [Treatise on Painting], published in 1844. This led to a number of further high profile publications, including an essay on the color scheme for the interiors of Crystal Palace, site of the Great Exhibition of 1851.
In 1844 Merrifield was commissioned by the Royal Commission on the Fine Arts, under the government of Prime Minister Robert Peel (1788–1850), to travel to France and Italy, in order to identify and transcribe manuscripts on colour, and research the make-up of early pigments and Italian methods of painting. The epistolary diary of Merrifield's research journeys to France and Italy between 1844 and 1846, in the form of letters to her husband and other family members in Brighton, has only recently been discovered at The Keep Archives in East Sussex.
These letters are in the process of being transcribed by Dr Alexandra Loske, art historian and oral historian at the University of Sussex, with the help of volunteer researcher Natasha Romanova. They provide a wealth of information about her personal circumstances, how she used her professional connections and drew on previous research and publishing experience, as well as the support of her immediate family members. They also reveal her particular interests, her character, professionalism and organizational skills, and how she acquired further specialist knowledge in the field of color history.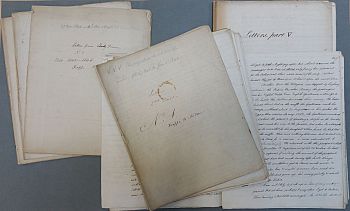 As part of this project, Alexandra Loske curated a temporary display on Merrifield's life and work at Brighton Museum & Art Gallery's Museum Lab. It could be viewed on the upper floor of the Museum, opposite the entrance to the Museum Lab, from January until May 2017. In 2019/20 a smaller version of this went on display at the Booth Museum of Natural History, Hove. Here are a few impressions:
On 29 March 2017 Alexandra Loske gave a talk on Merrifield's letters at
The Keep Archives
, East Sussex:
In Search of Colour in the 1840s: Mrs Merrifield's continental journey