Memories wanted to make medical history
Hospital workers are invited to share their memories - both as staff and patients - for a special heritage project co-ordinated by the University of Sussex and Brighton and Sussex University Hospitals (BSUH).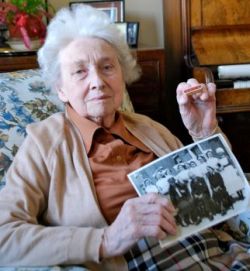 Researchers at the University's Centre for Community Engagement (CCE) are appealing for current and former employees of hospitals run by BSUH to help create an oral archive and exhibition.
Participants will be asked about their memories of the five BSUH hospitals : Princess Royal Hospital - formerly Cuckmere and Haywards Heath Hospital, Royal Alexandra Children's Hospital, Royal Sussex County Hospital, Sussex Eye Hospital and Hurstwood Park Neurological Centre. From this group, 50 people will be invited to record their stories to represent a wide range of memories.
Our Hospital, Our History project co-ordinator Sam Carroll says: 'We are interested to hear about training, about the social life of hospitals, of hierarchies and comradeship. We want to know about changes in the way that patients are treated, medical and technical innovations, in care and also, possibly, in difficulties or struggles.
'We very much want to collect the hitherto unrecorded or neglected story, for hospitals are more than bricks and mortar.'
The researchers, all graduates of the University's MA in Life History, are being employed by BSUH 3Ts redevelopment programme for the duration of the oral history project.
The stories will be sustainably recorded and form a new oral archive at the hospital library.. The aim is also to create a small publication and exhibition at the end of the project in July 2011, and to raise funds for a larger exhibition and website.
Anyone interested in participating should contact: Sam Carroll (Project Manager), Centre for Community Engagement, Mantell Building, University of Sussex, Falmer, BN1 9RH. E s.j.carroll@sussex.ac.uk
Although Brighton General is not run by BSUH, its historical ties with other hospitals means that the researchers are interested in hearing memories associated with there, too.