Principal Investigator
Margaretta Jolly is a cultural historian with a particular interest in life writing and life history. Her book In Love and Struggle: Letters in Contemporary Feminism, was joint winner of the Feminist and Women's Studies Association UK book prize, 2008 and she co-directs the Centre for Life History and Life Writing Research.
Research Fellow
Rachel Cohen is an historian and was the Facilitator of the Women's Liberation Movement Network at The Women's Library from 2008-9. Her research focuses on the British and American women's liberation movements and cultural difference. She has lectured in history, sociology and women's studies at Brunel and Westminster universities.
Research Associate
Lizzie Thynne is a film maker whose interests encompass both text and practice-based research and include the following: documentary, biography, queer studies, photography, surrealism, media industries and oral testimony. She has published on lesbian representation in film and television, practice-based research and on women's employment in television. Her recent work in writing and film has focussed on the surrealist photographer, Claude Cahun, 1894- 1954.
Doctoral Candidate
Freya is researching structure and organisation in the women's liberation movement, and feminist professional identities as they developed subsequently. She completed an MPhil at the University of Cambridge Centre for Gender Studies in 2010.
Film Editor and Research Assistant
Peter Harte
Web Content Developer
Abi Barber
Abi works at the British Library in the learning team. She holds an MA in Museum Studies from the University of Southampton and is interested in gender, ethnic and class marginalisation through language.
Interns
Claire currently works for Widening Participation at the University of Sussex. She completed an MA in Gender, Society and Representation at UCL in 2010. Her research interests include gender and language and divisions between public and private space.
Centre for Women's Studies, University of York
Oral History of Women's Liberation Movement in Leeds and Bradford 1969-79
Grazia De Michele obtained a PhD in history in 2012. She is currently a partner of the Breast Cancer Consortium and a founding member of Brighton Breast Cancer Action
Research Partners
The British Library
Dr. Polly Russell
Polly Russell works as a Curator at the British Library in the Social Science department. Polly is responsible for collections relating to Human Geography and Anthropology and her research interests include feminism, oral history and food.
Dr. Sarah Evans
Sarah works as a Curator in Social Science at the British Library, specialising in sociology. She is interested in the intersections of gender, social class and ethnicity as well as the sociology of education, personal and family relationships, feminism and psychosocial methods.
Advisory Group
Professor Barbara Taylor (Department of History, University of East London):
Professor Sally Alexander (Department of History, Goldsmiths)
Ursula Owen (Editor-in-Chief, Index on Censorship)
Dr Lucy Bland (Department of History, London Metropolitan University)
Professor Pat Thane (Leverhulme Professor of Contemporary British History, University of London)
Dr. Rob Perks (Oral History Curator/Director of National Life Stories, British Library).
Anne-Marie Sandos (Learning Manager, Black Cultural Archives)
Professor Luisa Passerini (Dipartimento di Storia, Università di Torino)
Professor Lynn Abrams (Department of History, University of Glasgow)
Mary Marshall Clark (Director of Columbia Oral History Research Office)
Avril Rolph (Collections Officer, Archif Menywod Cymru / Women's Archive of Wales)
Dr Esther Breitenbach (School of History, University of Edinburgh)
Teresa Doherty (Collections Manager, The Women's Library, London Metropolitan University)
Professor Heidi Mirza (Department of Educational Foundations and Policy Studies, Institute of Education, University of London)
Dr Margaret Ward (Director of the Women's Resource and Development Agency, Belfast)
Dr Kathy Davis (Senior Researcher, Institute of History and Culture, Utrecht University)
Friends and Supporters
Professor Sherna Berger Gluck, Director Emerita of the Oral History Program at California State University
Mia Morris, Oral History Project Co ordinator, Black Cultural Archives
Chandan Mahal, Head of Audience Development, The Women's Library, London Metropolitan University
Gail Cameron, Curator, The Women's Library, London Metropolitan University
Marilisa Malizia, Department of Sociology and Political Sciences, University of Calabria
Sarah Browne, University of Nottingham
Bridget Lockyer, Women's Studies, University of York
Jean Williams, Senior Research Fellow in the International Centre for Sports History and Culture, De Montfort University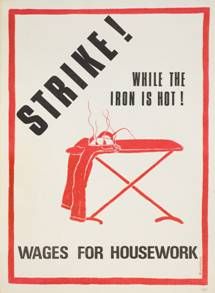 'Wages for Housework' c. 1978 Designed by B. Warrior, The Women's Library, London Metropolitian University