Welcome to Sisterhood and After, the first national oral history project documenting the memories of the women who powered the women's liberation movement.
Capturing the voices of a generation of feminist activists, 'Sisterhood & After' is a new oral history archive and website which launched at the British Library on 8th March on International Women's Day, and provides a free major resource to anyone interested in the history of feminism. The oral history project was also partnered with The Women's Library, which advised it, and directed by Margaretta Jolly at the University of Sussex. It was funded by The Leverhulme Trust. Each of the 60 women activists recorded for this project campaigned for equality and freedom in the 1960s, 70s and 80s. These women demanded that struggles for gender rights be on at home as well as in the public sphere. They describe their own experiences as girls, socialised to expect less than their brothers. They also describe a rich range of political heritages that informed British feminism, from Black Power to Gay Liberation to socialism and disability rights.
Hear and see them at bl.uk/sisterhood and the Women's Library blog.
Sisterhood: Greenham in Common
When: Mon 3 Mar 2014, 18.30 - 20.00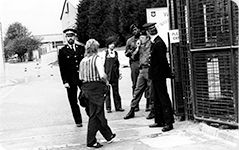 Where: Conference Centre, British Library
Price: £8, (£6 Over 60s) and £5
Book now for 03 Mar 2014
British Library, London
On 5 September 1981 a group of women arrived at the gates of RAF Greenham in Berkshire to protest against the British government's decision to locate nuclear missiles there; a peace camp was set up and remained until 2000. Over almost 20 years thousands of women engaged in massive protests at the site. Many hundreds were arrested and jailed. Their unconventional methods kept them in the headlines.
To mark International Women's Day and the first anniversary of the Sisterhood and After website a panel of women with direct links with the peace camp at Greenham look at how both sides tried to win the argument and capture hearts and minds.
Dr Rebecca Johnson FRSA is Co-Chair of the International Campaign to Abolish Nuclear Weapons (iCAN), CND Vice-President, and director of the Acronym Institute for Disarmament Diplomacy. As a feminist committed to nonviolent political change she lived at the Greenham Common Women's Peace Camp for 5 years (1982-87) and has continued to combine activism with academic publications and international advocacy for peace, human rights and security. Dr Johnson is a member of the International Panel on Fissile Materials and formerly served as senior advisor to the International WMD (Blix) Commission (2004-06) and Vice Chair of the Bulletin of the Atomic Scientists (2001-07).
Baroness Beeban Kidron is a film director best known for directing Bridget Jones: The Edge of Reason (2004) and the Bafta-winning Oranges Are Not the Only Fruit (BBC 1990). Her first documentary, Carry Greenham Home (1983) made as part of course while a film student, was filmed during a year spent at the Women's Peace Camp. She is the joint founder of the educational charity FILMCLUB which aims at transforming the lives of young people through film. She sits in the House of Lords as a crossbench peer.
Sasha Roseneil is Professor of Sociology and Social Theory and Director of the Birkbeck Institute for Social Research at Birkbeck, University of London. Having left school to live at Greenham in 1983, she has spent many years since researching and writing about feminist and lesbian and gay politics and social movements, including two books about Greenham: Disarming Patriarchy: feminism and political action at Greenham (Open University Press, 1995) and Common Women, Uncommon Practices: the queer feminisms of Greenham (Cassell, 2000).
Dame Joan Ruddock has been Labour MP for Lewisham Deptford since 1987. Her career in Parliament has seen her hold three ministerial posts, responsible for women, the environment and climate change. Her championing of a large number of causes placed her at the forefront of both the feminist and environmental movements. From 1981 to 1985 she was chair of the Campaign for Nuclear Disarmament and a high profile Greenham Common protester.
Jude England (chair) joined the British Library as Head of Social Sciences in 2006. The department led the Library's summer exhibition in 2013, Propaganda, Power and Persuasion, and has been involved in a number of major projects, most recently:Sisterhood and After, an oral history of the Women's Liberation Movement; the BBC'sListening Project; the development of dedicated web resources on Social Welfare and management and business studies; plus the Census, Taking Liberties and Evolving English exhibitions. Before joining the Library, Jude's career was spent in research and consultancy, specialising in qualitative social policy research and employee relations.
This event will have live subtitling for deaf, deafened and hard of hearing visitors, provided by STAGETEXT