Welcome to Sisterhood and After, the first national oral history project documenting the memories of the women who powered the women's liberation movement.
Capturing the voices of a generation of feminist activists, 'Sisterhood & After' is a new oral history archive and website which launched at the British Library on 8th March on International Women's Day, and provides a free major resource to anyone interested in the history of feminism. The oral history project was also partnered with The Women's Library, which advised it, and directed by Margaretta Jolly at the University of Sussex. It was funded by The Leverhulme Trust. Each of the 60 women activists recorded for this project campaigned for equality and freedom in the 1960s, 70s and 80s. These women demanded that struggles for gender rights be on at home as well as in the public sphere. They describe their own experiences as girls, socialised to expect less than their brothers. They also describe a rich range of political heritages that informed British feminism, from Black Power to Gay Liberation to socialism and disability rights.
Hear and see them at bl.uk/sisterhood and the Women's Library blog.
ELF debate: Fifty Years of Feminism
At the Rich Mix (in the main space), 35-47 Bethnal Green Rd, London E1 6LA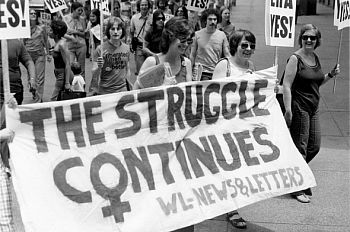 22 April 2014 at 7pm
This is a free event, but RSVP is essential and available HERE
Watch the live stream online | eastlondonfawcett.org.uk
@EastFawcett #Feminism50
THE EVENT
"A feminist is anyone who recognizes the equality and full humanity of women and men."
― Gloria Steinem, 1972
What can today's feminists learn from the Women's Movement of the 1970s and 80s? Debate the past, present and future of feminism during this panel discussion, hosted by East London Fawcett on 22nd April and in partnership with the British Library.
In a society where the full-time gender pay gap is 10%, only 23% of UK MPs are women, and 44% of women still experience physical abuse, we ask what impact the legacy of Second Wave feminism has on the lives of women living in the 21st century.
Does feminism mean something different today?

How do we raise awareness of the ongoing inequalities in the home, at work, and in the media?

Can we even agree on what still needs to be fought for?
The evening will also feature recordings from the British Library's new oral history of the Women's Movement, Sisterhood and After.
Feminist campaigners of the 70s and 80s deserve to be celebrated, but there is work left to be done. So how relevant is feminism's past to its future?
This fascinating debate about the past, present and future of feminism, will be chaired by Jude Kelly, Artistic Director of the Southbank Centre. Panellists so far confirmed are:
Melissa Benn – author, journalist and campaigner for the comprehensive education system. Her most recent book, What Shall We Tell Our Daughters? The Pleasures and Pressures of Growing Up Female has just been published by John Murray

Beatrix Campbell – writer, journalist, playwright, social commentator and Green Party candidate. Beatrix was active in the Women's Liberation Movement, and co-founded Red Rag, a Marxist and feminist journal. Her most recent book, The End of Equality has just been published by Seagull Books

Laura Bates – journalist and founder of the Everyday Sexism Project, a collection of over 10,000 women's daily experiences of gender inequality

Lesley Abdela – expert on women's rights internationally, and is an advisor to governments and NGOs in the fields of gender and democratic development. She is also a journalist and broadcaster.
BACKGROUND
This event has been inspired by, and is being held in partnership with, The British Library's new feminist oral history project, Sisterhood and After: An Oral History of the Women's Liberation Movement.
The archive consists of audio recordings featuring the voices of a diverse range of feminists discussing work, race, fashion and identity. Panellists Beatrix Campbell and Lesley Abdela participated in the British Library's project, and will talk about their contributions. Polly Russell, curator at the British Library, will talk about why the archive matters.
EAST LONDON FAWCETT ('ELF')
East London Fawcett is the East London branch of the Fawcett Society, the UK's leading campaign for gender equality. ELF organises talks, parties, arts events, sporting activities and much more. It is 21st century activism for people who believe in progress and who want to be a part of an exciting movement that comprises a growing network of interesting and engaged people in East London. The group is open to all and membership is free.
For more information and to join the network contact: eastlondonfawcett@gmail.com
Event Details: ELF debate: Fifty years of Feminism @ the Rich Mix, 35-47 Bethnal Green Rd, London E1 6LA, 22 April 2014 at 7pm

Link for tickets:

http://goo.gl/gwSbJA

Contact eastlondonfawcett@gmail.com / press@eastlondonfawcett.co.uk for further press enquiries.