New Pathways: A Psychogeography of Lewes is a multimedia publication through REFRAME.
It brings together writers and film-makers from Lewes and elsewhere to create new and playful visions and maps of the town.
Explore New Pathways: A Psychogeography of Lewes HERE.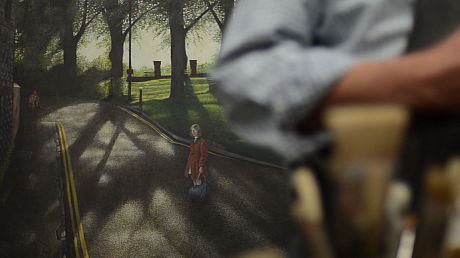 Still from the film A Walk Through Colour, by Alexandra Loske, Catalina Balan and George Mind, with Peter Messer (2015)
Impressions from the event Lewes Through a Glass Darkly 1 December 2015
Impressions from the event Lewes Through a Glass Darkly 1 December 2015
"The streets are repositories of history, walking a way to read that history".
Rebecca Solnit 'Wanderlust: A History of Walking'
"From Poe to Baudelaire, Aragon to Woolf, Keiller to Solnit, be they flâneurs, surrealists, urban explorers, writers, film makers, deep topographers, each has followed the compulsion to drift with intent, to follow, to lose oneself, to "see through the shining riddle of the street" (G.K. Chesterton); discovering palimpsests of landscapes, histories, symbols; learning to creatively misread, reinterpret, reframe, re-map the experiences discovered through journeys made on foot through urban or rural space. "The temptation, as ever, stood firm: to inflate a day's wandering, out in the weather, into something that could be described as a "quest""
Iain Sinclair
Related links and projects:
Pells Pool in Lewes has a recent CLHLWR essayist as its 2016 writer-in-residence: a post believed to be the first of its kind in the country. Tanya Shadrick - who studied English at Sussex (1993-98), before working at the University until 2012 - enjoyed her first publication last year when she answered our call for psychogeographical explorations of the nearby town of Lewes.
'The New Pathways project was a way for me to join finally what I call the ongoing conversation of writers and thinkers.' Tanya says. 'I'd written privately for years, but could never find a form that inspired me to seek publication. Of the three essays that were accepted by the Centre, one - There Are No Unsacred Places - gained a good deal of attention locally and led fairly directly to my being offered a role as writer-in-residence of Pells Pool.'
As part of her residency, Tanya chose to write a poolside mile of longhand on scrolls which - at 150ft - are the length of the lido. Its title, A Wild Patience, is taken from an Adrienne Rich poem about a woman in mid-life trying to bring to shore 'a boat with a spasmodic outboard motor'.
Asking swimmers when they felt most wild and free, Tanya has collected not only stories from pool-goers at Pells, but - via Twitter - memories and revelations from outdoor swimmers across the UK and beyond. The project has received wide media attention, with Tanya speaking on Radio 4 and BBC1 South East Today, and writing about the work for the arts magazine Oh Comely. She has also been developing ideas after meeting with representatives of the Mass Observation archive at The Keep early on in the project.
You can follow Tanya's project on Twitter @LidoWriters or read her previous work - including fiction and life-writing - at www.tanyashadrick.com
The AGM of the Railway land Wildlife Trust, to be held at the Linklater Pavilion at 7pm on Friday 15th May, promises to be a fascinating event as Director of the Railway Land Project, Dr John Parry, will outline new ways of thinking about green spaces as well as the pioneering work the Trust is sponsoring in Madagascar. This will be a chance for local people to preview Dr Parry's idea of nature reserves such as the Railway Land as 'Places to Think With' which will feature at a national Sustainable School Alliance Conference in Bristol in July. Both talks will be fully illustrated and all are welcome. For more info click HERE.
__________________________________________________________________________________________________
REFRAME is an open access academic digital platform for the online practice, publication and curation of internationally produced research and scholarship http://reframe.sussex.ac.uk/
The Centre for Life History & Life Writing Research at the University at Sussex explores life narrative as art, history and social practice. http://www.sussex.ac.uk/clhlwr/
For more information on psychogeography see: