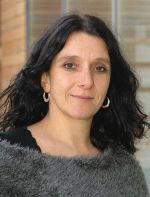 Dr
Sam Carroll
Biography
Sam has a doctorate in Life History Research from the University of Sussex. She graduated in July 2011. She completed an MA in Life History Research before that, graduating in Feb 2003.
Role
Sam is an Associate Tutor and has taught on the MA in Life History Research, MA in Lifelong Learning and various open courses for CCE. She is a working group member for the the Centre for Life History and Life Writing and convenes the centre's seminar programme. She was conference coordinator for the 7th Biennial International Auto/Biographical Association (IABA) conference at the University of Sussex 2010
Sam is currently researching protest groups in post war Britain. She is especially focusing on a particular group; 'The Committee of 100' and looking at identity, structure and method within this innovative campaign and any influences it had on subsequent movements
Sam is an Associate tutor, currently teaching the open course 'Exploring Mass Observation'.