We are pleased to be collaborating again with The Keep to support this exciting course, running from 2 February 2019 for eight weeks:

Timings and course fees to be confirmed soon.

Advance booking and payment essential – please call 01273 482349 to book your place.
Location: The Keep Archives, Woollards Way, Brighton, BN1 9BP.
Updated info coming soon.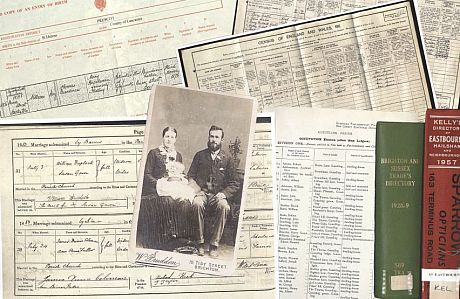 This practical creative writing course is designed to help individuals work imaginatively with their family archives, which might include letters, journals, documents, photographs, artworks and objects. Led by author and life historian Shivaun Woolfson, the sessions will enable you to develop a narrative approach and explore ways of telling your story, while Keep staff will offer advice on finding, interpreting and caring for family archives. There will be an opportunity to take part in a guided tour of The Keep and, in the final session, to share your work with family and friends.
The content will be as follows:
Developing the narrative approach
An overview of how authors, historians, anthropologists and life writers from varied cultural, social and geographic backgrounds have approached the task of unpacking their family history, giving you the opportunity to explore your own narrative approach.
What's In the Archive?
A chance to focus on what exactly you have in your archive – from diaries and letters to artefacts and photographs – and to devise a personal response to them. Guest talk by archivist Samira Teuteberg. After the session, there will be the option of a tour behind the scenes of the Keep.
Curating the Past
How to 'unpack' your family archive, and how to interpret, organize and care for the materials uncovered. Guest talk by conservator Melissa Williams.
Placing your family story in the wider context
Explore the social, cultural and political contexts of your family's history and find out how to incorporate potential resources from archives, libraries and genealogical websites. You'll find out how to conduct life history interviews, and how to fill the gaps creatively. Guest talk by local researcher Andrew Lusted.
Developing a creative strategy to 'tell or record the story'
This session will be aimed at helping you clarify your intentions; explore possible outputs and 'ways of telling'. There will be an opportunity to explore a range of models to present your material, drawing on text, image, movement and others.
There will then be a two-week break until the final session, to allow time for writers to complete their stories.
Telling the Family Story
Invite your family and friends to join us at The Keep for a presentation and sharing of the work of all participants.
For further info follow this link: http://www.thekeep.info/events/beyond-the-family-tree-writing-curating-and-presenting-your-familys-past/