Education and development in the Global South and the diaspora is the main focus of CIE. Our aim is to undertake research and provide a knowledge hub, insights and findings related to the concerns of lower income countries in different parts of the world seeking to enhance their development. Over the last 20 years, CIE has grown to become one of the largest and most highly rated academic groups of its kind in the UK, with a reputation as a leader in its fields of study and as a centre of excellence.
CIE offers a friendly, supportive and challenging environment in which to debate development issues, theoretical perspectives and methodological positions related to education and development. Its staff support the MA in International Education and Development and approximately 30 doctoral candidates on the PhD in Education course.
New for 2014 are two International Education and Development 'elective' modules which can be taken by students across the university as specialist options to complement your main degree. From 2015, the addition of two further modules will form a 'pathway' worth 60 credits and reflected in your final degree ward title as 'with International Education and Development'. See Frequently asked questions for details about electives and pathways and when and how to register for them.
Sussex Africa Centre brings colour to Essex House
Sussex Africa Centre Director, Professor JoAnn McGregor, and other centre members presented a CIE Research Cafe on 22 October on issues of migration and settlement of Zimbabweans in the UK. Their colourful presentation included case studies of a range of individuals' experiences of moving from Africa to the UK, as well as an introduction to related teaching and learning materials. The group also set up large display materials in Essex House reception.
Attending the 'cafe' were faculty and students from Education and Global Studies, and colleagues from local NGOs working with migrants (some of whom feature in the photograph).
Autumn Term Events
Thurs 26 Nov
APOLOGIES: THE SCHEDULED RESEARCH CAFE HAS BEEN CANCELLED DUE TO THE ILL HEALTH OF THE PRESENTER
Tues 1 Dec, 5-6pm: Sussex Development Lecture presented by Rajesh Tandon, Founder-President, Participatory Research in Asia (PRIA)
Engaged Scholarship and Knowledge Democracy: Re-inventing community-based participatory research
Convening Space, IDS
Thurs 3 Dec, 1-2pm: Research Cafe presented by Emily Echessa, Deputy Head of Education, Save The Children
Title TBC
Ground Floor Meeting Room, Essex House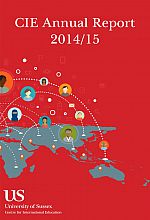 Download the new CIE Annual Report: 2014/15 [PDF 6.67MB]
Download the CIE Newsletter: Winter 2015 [PDF 505.66KB]