Education and development in the Global South and the diaspora is the main focus of CIE. Our aim is to undertake research and provide a knowledge hub, insights and findings related to the concerns of lower income countries in different parts of the world seeking to enhance their development. Over the last 20 years, CIE has grown to become one of the largest and most highly rated academic groups of its kind in the UK, with a reputation as a leader in its fields of study and as a centre of excellence.
CIE offers a friendly, supportive and challenging environment in which to debate development issues, theoretical perspectives and methodological positions related to education and development. Its staff support the MA in International Education and Development and approximately 40 doctoral candidates on the International Doctor of Education and PhD in Education courses.
New for 2014 are two International Education and Development 'elective' modules which can be taken by students across the university as specialist options to complement your main degree. From 2015, the addition of two further modules will form a 'pathway' worth 60 credits and reflected in your final degree ward title as 'with International Education and Development'. See Frequently asked questions for details about electives and pathways and when and how to register for them.
See this short film in which two doctoral candidates describe their experiences of studying international education within CIE: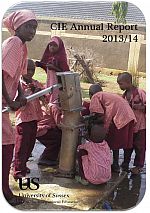 Dowload the CIE Annual Report: 2013/14 [PDF 895.36KB]

Download the CIE Promotional Leaflet [PDF 1.44MB]
Dissertations from MA in International Education and Development 2013/14 cohort now available to view online
International education researchers awarded $3.8 million for research grants in the area of Education, Conflict and Peacebuilding
CIE researchers Professor Mario Novelli, Dr Yusuf Sayed and Dr Naureen Durrani have won three major grants in the field.
They will co-lead a new UNICEF-funded Consortium for Research on Education and Peacebuilding with the University of Amsterdam and the University of Ulster through which research will be carried out in Sierra Leone, Liberia, Pakistan, Uganda and Myanmar focussing on: the role of teachers in post conflict societies and youth, education and peacebuilding.
Dr Yusuf Sayed (PI), Professor Mario Novelli and Dr Naureen Durrani have secured a highly prestigious ESRC/DFID Poverty Alleviation Scheme award to carry out research on Engaging Teachers in Peacebuilding in Postconflict Contexts: Evaluating Education Interventions in Liberia and Sierra Leone.
Professor Mario Novelli has secured a research grant from UNICEF Regional Office for Southern Africa (ROSA) to carry out a Comparative Country Study exploring the nexus between Education Sector Governance, Inequality, Conflict and Peacebuilding' in South Sudan and Kenya. The work will be carried out in conjunction with Sussex Centre for Conflict and Security Research (SCSR), the University of Ulster and the University of Glasgow and local partners in Kenya and South Sudan.
Regular Events
The CIE group meets informally every Thursday during term time between 1 and 2pm in Essex House Reception. We discuss current issues and exchange views and news in a relaxed atmosphere. Often ex-students, faculty and associates return to talk about their ongoing work in education and development.
Research-in-Progress seminars take place on the first Wednesday of the month during term time and provide a space for doctoral candidates - as well as faculty - to present and discuss their research work with others.
CIE hosts regular invited seminars as part of the ESW Open Seminar Series which generally take place on Mondays during term time between 5 and 6.30pm. These events are available to join remotely and are also recorded for retrospective viewing. See Seminars for details and recordings of past CIE events and details of upcoming events.