Education and development in the Global South and the diaspora is the main focus of CIE. Our aim is to undertake research and provide a knowledge hub, insights and findings related to the concerns of lower income countries in different parts of the world seeking to enhance their development. Over the last 20 years, CIE has grown to become one of the largest and most highly rated academic groups of its kind in the UK, with a reputation as a leader in its fields of study and as a centre of excellence.
CIE offers a friendly, supportive and challenging environment in which to debate development issues, theoretical perspectives and methodological positions related to education and development. Its staff support the International Education and Development MA and approximately 30 doctoral candidates on the Education PhD course.
Undergraduates may want to consider complementing their studies with additional 'elective' modules (15 credits each) or 'pathways' (60 credits) in International Education and Development. Details can be found under Customise your course.
Don't miss ...
Date: Friday 14 December
Time: 1-2pm
Venue: IDS Convening Space
Speaker: Dr Claudia Costin, Director of the Centre for Excellence and Innovation in Education Policies (CEIPE)
Title: Challenges for Education in Developing Countries Under the Perspective of the SDG 4
Chaired by Professor Kwame Akyeampong
___________________________________________________________________
Download the poster for all upcoming CIE Events: 2018/19.
There is a dearth of evidence-based scholarly resources for training teacher educators in developing countries. This book is a response to this gap. Written by Janet Stuart, Kwame Akyeampong and Alison Croft, it grew out of the experience and insights they gained while working on the Centre for International Education (CIE) Multi-Site Teacher Education Research (MUSTER) project between 1997 and 2001. As a sourcebook, it is designed to be a resource for people involved in teacher education, especially in the global south, and can be downloaded for personal use or as training material for teacher educators.
Sustainable development initiatives in Madagascar enabled by Sussex Research Impact Fund
Professor Máiréad Dunne and Education doctoral researcher, Daniella Rabino, secured £3,000 from the Sussex 'Research Impact Fund' for a two-week trip to Madagascar in June 2018 intended to introduce social perspectives for youth planning in sustainable development.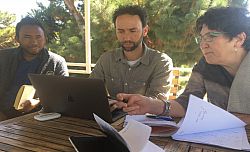 One of their achievements was the development of a formal partnership between Madagascar's Ministry of Youth and Sussex's Centre for International Education (CIE) who will collaborate on the operationalization of a new National Action Plan. The Plan will include the leading of outreach teams at Centre ValBio - a research centre in the Ranomafana National Park - to map the social components and challenges surrounding efforts to engage with over 50 rural communities around the forest.
Máiréad and Daniella ran workshops in the capital, Antananarivo, and at Centre ValBio at which they presented on the social dimensions for approaching rural and biodiverse landscapes as spaces for citizenship and inclusion. Important discussions followed about the ways in which education research and social knowledge connect with science.

Máiréad and Daniella's time in Madagascar concluded with discussions at Conservation International and UNICEF about the potential for future research and work on youth and citizenship in Madagascar.
Featured publication
Delprato, Marcos and Chudgar, Amita (2018): 'Factors Associated with Private-Public School Performance: Analysis of TALIS-PISA link data'. International Journal of Educational Development. (Accepted)