Education and development in the Global South and the diaspora is the main focus of CIE. Our aim is to undertake research and provide a knowledge hub, insights and findings related to the concerns of lower income countries in different parts of the world seeking to enhance their development. Over the last 20 years, CIE has grown to become one of the largest and most highly rated academic groups of its kind in the UK, with a reputation as a leader in its fields of study and as a centre of excellence.
CIE offers a friendly, supportive and challenging environment in which to debate development issues, theoretical perspectives and methodological positions related to education and development. Its staff support the MA in International Education and Development and approximately 30 doctoral candidates on the PhD in Education course.
From 2015, we are running a 60 credit undergraduate Pathway in International Education & Development taken as four 15 credit modules that provide an excellent grounding in the field for any student across the University to complement your main degree. These modules can also be taken individually as one-off electives. See Frequently asked questions for details about electives and pathways and when and how to register for them.
'Education For All' Director presents final Sussex Development Lecture of 2015/16
Dr Jordan Naidoo, Director, UNESCO Education 2030 Support and Coordination (Ed/ESC) Education Sector, Paris, presented 'Necessary Ambition or Misplaced Folly' at the University of Sussex on Thursday 5 May.
The well-attended event was the last Sussex Development Lecture of the 2015/16 academic year - events organised and promoted by the Development Studies group at Sussex [School of Global Studies, Science Policy Research Unit (SPRU), Centre for International Education (CIE), and the Institute of Development Studies (IDS)].
Read DFID's latest edition of 'Evidence Digest'
Download the latest issue of DFID's Evidence Digest - a publication addressing violence against women and girls internationally.
Further issues and guidance notes are available online.
CIE Deputy Director gives Keynote Address at Washington Conference
Professor Mario Novelli, Deputy Director of the Centre for International Education (CIE) and Co-Director of the Research Consortium on Education and Peacebuilding, gave the keynote address at the opening of a major conference on The Role of Education in Building Social Cohesion and Sustainable Peace at the World Bank, Washington, DC, 6-7 April 2016.
The conference was attended by over 200 international participants from academic, policy and practitioner organisations engaged in issues related to education governance and delivery in conflict affected states. The conference was organised jointly by UNICEF, The Global Partnership for Education (GPE) and the World Bank.

CIE Director is panelist at annual conference to address the challenges of social and economic development
Professor Máiréad Dunne, Director of the Centre for International Education was part of a plenary panel on Research and Policy at The 17th Global Development Network Annual Global Development Conference, Universidad del Pacifico, Lima, Peru on 17-18 March, 2016 with the theme 'Education for Development: Quality and Inclusion for Changing Global Human Capital Needs'. The conference was hosted by Peru's Ministry of Education and the Group for the Analysis of Development (GRADE).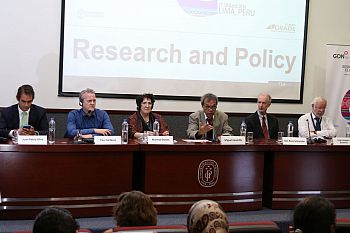 The panel discussed connections between research and policy, and highlighted the issues of capacity building. Other members of the panel included:
Juan Pablo Silva, Vice Minister of Institutional Management, Ministry of Education Peru

Pasi Sahlberg, Visiitng Professor Harvard University
Dr Miguel Jaramilo Executive Director, GRADE (Group for the Analysis of Development)
Ben Schneider, Professor of Political Economy , MIT
Jose Joaquin Brunner (Professor at the Universidad Diego Portales and Former General Secretary Government of Chile
The Global Development Network's flagship event holds its Annual Conference in different countries each year. The events aim to connect developing countries' researchers and students with the world's most influential researchers, corporate leaders and political figures on a common platform where they can share their research and discuss the most pressing challenges in social and economic development. The defining features of the GDN conference are the empowerment of researchers in developing countries, strengthening of research skills and the mobilization of research for public policy.
Alan Winters, Professor of Economics at the University of Sussex is Chair of the Global Development Network's Board and also involved in the conference.
Mairead also presented 'Education and Equality: Can we count on It?' to the Department of Social Science and Politics, Universidad del Pacifico, Lima, on 16 March. She was introduced by Sussex alumnus, Dr Cesar Guadeloupe, who completed his Doctorate in Education in 2009.