The Centre for Global Political Economy at Sussex was launched in 2000 to fill an important gap in the theory and practice of International Political Economy.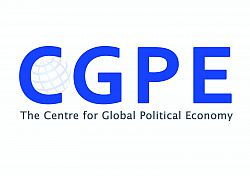 Based on the premise that the traditional distinctions between the economic and the political, the domestic and the international, the public and the private, the institutional and the everyday, create a wholly inadequate framework for analysing world structures and transformations, especially within an era of globalising forces and dynamics, CGPE provides a forum for original interdisciplinary research on global politico-economic change. This critical agenda has been successfully carried forward under the directorship of leading scholars of IPE Prof. Ronen Palan and Prof. Kees van der Pijl.
The Centre's current work applies this broad approach to a number of themes of central importance to the contemporary global political economy: including trade and finance; environment and development; labour and social movements. Our regional expertise includes East Asia, Latin America, Africa and India and we have partnerships with many research and activist institutions in those regions.
CGPE's staff, research students, associates and visiting scholars are drawn from the fields of International Relations, Development Studies, Economics, Geography, Politics, Sociology and Anthropology. This is reflected in the Centre's conferences, seminars and other outreach activities. Each year the Centre organises a wide range of events and hosts at visiting scholars from around the world. The CGPE welcomes ideas and proposals for collaboration on projects related to its research focus.
CGPE Gender & Global Political Economy Undergraduate Essay Prize
The CGPE Gender & Global Political Economy Undergraduate Essay Prize is awarded annually to honour the best undergraduate essay of gender/feminist inquiry into the global political economy. The winner will be announced in the summer of each academic year, and receive an award certificate and a book prize.
The deadline for receipt of submission for the 2018/19 prize is 31 May 2019. The winner will be announced in late June.
Our objectives

We aspire to develop new theoretical and conceptual tools and categories that are able to capture and analyse the actors, processes, structures and historical dynamics of contemporary global political economy, and the complexity of their (inter)relationship;

We aim to produce cutting edge empirical research on key issues in contemporary global political economy. This involves enquiry into the origins and nature of the contemporary global political economy as well as exploration of potential alternative orderings. This provides a venue for thinking on innovative policies and solutions for the urgent problems, threats and opportunities generated by the existing dynamics;

We seek to engage researchers, governmental and intergovernmental institutions, NGOs, trade unions and social movements, private actors and broader publics interested in these themes by way of conferences, workshops, seminars, lectures and publications about our research.
Contacts

Director
Dr Julian Germann
J.Germann@sussex.ac.uk

Co-director
Dr Elizabeth Harrison
E.A.Harrison@sussex.ac.uk

Centre Administrator
Nadya Herrera Catalan
N.Herrera-Catalan@sussex.ac.uk