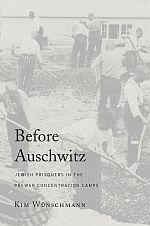 Kim Wünschmann

Before Auschwitz: Jewish Prisoners in the Prewar Concentration Camps

Harvard University Press, 2016

ISBN 9780674967595, £33.95

Edward Timms

Anna Haag and her Secret Diary of the Second World War:
A Democratic German Feminist's Response to the Catastrophe of National Socialism
Peter Lang, 2016

ISBN: 978-3-0343-1818-1, £40.00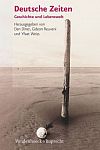 Gideon Reuveni, Dan Dinner and Yfaat Weis (eds.)
Deutsche Zeiten: Geschichte und Lebenswelt. Festschrift zur Emeritierung Von Moshe Zimmermann
Göttingen: Vandenhoeck & Ruprecht, 2012
ISBN: 3525301642, £43.13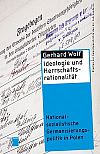 Gerhard Wolf
Ideologie und herrschaftsrationalität - nationalsozialistische Germanisierungspolitik in Polen
Hamburger Edition, Hamburg
ISBN 9783868542455, £20.86

Gideon Reuveni and Sarah Wobick-Segev (eds.)
The Economy in Jewish History: New Perspectives on the Interrelationship between Ethnicity and Economic Life
New York: Berghahn Books, 2011
ISBN: 1845457749, £58.79

Gideon Reuveni and Nils Römer

Longings and Jewish Belongings: The Making of Jewish Consumer Culture
Leiden: Brill Publications, 2010
ISBN: 9789004186071, £90.24

Christian Wiese and Paul Betts (editors)
Years of Persecution, Years of Extermination - Saul Friedlander and the Future of Holocaust Studies

Continuum Books, 2010
ISBN: 9781441129871, £22.99
Andrea Hammel and Godela Weiss-Sussex (editors)

Not an Essence but a Positioning, German-Jewish Women Writers 1900-1938

Martin Meidenbauer Publishers, 2009

ISBN:9783899751611, €39,90
Deborah Schultz and Edward Timms (editors)

Arnold Daghani's Memories of Mikhailowka: The Illustrated Diary of a Slave Labour Camp Survivor

Vallentine-Mitchell, 2009

Cloth - 9780853036388 - £45.00, Paper - 9780853036395 - £18.95
Hava Tirosh-Samuelson and Christian Wiese (editors)

The Legacy of Hans Jonas: Judaism and the Phenomenon of Life

Brill Publishers, 2008
ISBN-13: 978 90 04 16722 3, € 180.00 / US$ 267.00
Deborah Schultz, Edward Timms
Pictorial Narrative in the Nazi Period: Arnold Daghani, Felix Nussbaum, Charlotte Salomon
Routledge, 2009

ISBN: 978-0-415-49095-5, £75.00

Hans Jonas, Christian Wiese (editor), Krishna Winston (translator)
New England: Brandeis University Press, 2008
ISBN: 1-58465-639-5, $35.00
Andrea Hammel
Everyday Life as Alternative Space in Exile Writing
Oxford: Peter Lang, 2008
ISBN: 978-3-03910-524-3, £32.00
Christian Wiese
The Life and Thought of Hans Jonas: Jewish Dimensions
New England: Brandeis University Press, 2007
ISBN: 1-58465-638-7, $50.00
Lotte Kramer, Edited with an Introduction by Sybil Oldfield
Kindertransport, Before and After: Elegy and Celebration Sixty Poems 1980-2007
Centre for German-Jewish Studies, University of Sussex, 2007
ISBN: 978-0-9554114-2-7, £10.00 + £2.50 p&p
Christian Wiese and Andreas Gotzmann, (editors)
Judaism and Historical Consciousness: Identities - Encounters - Perspectives
Boston/Leiden: Brill Publishers, 2007
ISBN: 978 90 04 15289 2, €149.00
Deborah Schultz
Marcel Broodthaers: Strategy and Dialogue
Oxford: Peter Lang, 2007
ISBN: 978-3-03910-918-0, £38.00
Christian Wiese, (editor)
Redefining Judaism in an Age of Emancipation: Comparative Perspectives on Samuel Holdheim (1806-1860)
Boston/Leiden: Brill Publishers, 2006
ISBN: 978 90 04 15265 6, €99.00
Christian Wiese and Andrea Schatz, (editors)
Janusfiguren: "Jüdische Heimstätte", Exil und Nation im deutschen Zionismus
Berlin: Metropol, 2006
ISBN 3-932482-88-3, €21.00
Deborah Schultz and Helmut Braun, (editors)
"Verfolgt-Gezeichnet": Der Maler Arnold Daghani
zu Klampen Verlag, 2006
ISBN: 3-934-92055-1, €28.00
Christian Wiese
Challenging Colonial Discourse: Jewish Studies and Protestant Theology in Wilhelmine Germany
Boston/Leiden: Brill Publishers, 2005
ISBN: 978-90-04-11962-8, €172.00
Herausgegeben von Wolfgang Benz, Claudia Curio & Andrea Hammel
Die Kindertransporte 1938/39: Rettung und Integration
Frankfurt: Fischer Taschenbuch Verlag, 2003, 253 pages
ISBN: 3596157455
Timms, Edward & Hughes, Jon (editors)
Intellectual Migration and Cultural Transformation Refugees from National Socialism in the English-speaking World
Wien/New York: Springer, 2002
ISBN 3-211-83750-7, € 32.00
Leo Baeck Institute Year Book 2001 XLVI
Oxford: Berghahn Books, 2001
ISBN 1-57181-553-8, £30
Including papers presented at the Centre for German-Jewish Studies conference "Progress and Emancipation in the Age of Metternich: Jews and Modernisation in Austria and Germany 1815-1848" in April 1999.
Gilbert J. Carr & Edward Timms (editors)
Reading Karl Kraus. Essays on the reception of Die Fackel
Munchen: Iudicium, 2001
ISBN 3-89129-050-0
Andrea Hammel, Silke Hassler and Edward Timms (editors)
Writing After Hitler: The Work of Jakov Lind
Cardiff: University of Wales Press, 2001
ISBN 0-7083-1615-8, £25
Jan Herman Brinks
Paradigms of Political Change, Luther, Frederick II, and Bismarck: The GDR on Its Way to German Unity
Marquette Studies in Philosophy, No. 28, Milwaukee, 2001.
ISBN: 1860644589
Edward Timms and Andrea Hammel (editors) with a preface by Werner E. Mosse
The German-Jewish Dilemma: From the Enlightenment to the Shoah
Lewiston: Edwin Mellen Press, 1999
ISBN 0-7734-8195-8, £25
Jan Herman Brinks
Children of a New Fatherland. Germany's Post-War Right-Wing Politics
London, New York: I. B. Tauris, 1999, 200 pages
ISBN: 1860644589
Book Series
Since 2007, the Centre for German-Jewish Studies, in cooperation with New York University and University of Zürich, publishes a prestigious book series in Jewish Though and Philosophy:
Elliot Wolfson, Christian Wiese, and Hartwig Wiedebach (editors)
Supplements to The Journal of Jewish Thought and Philosophy
Brill Publishers, 2007
ISSN 1873-9008